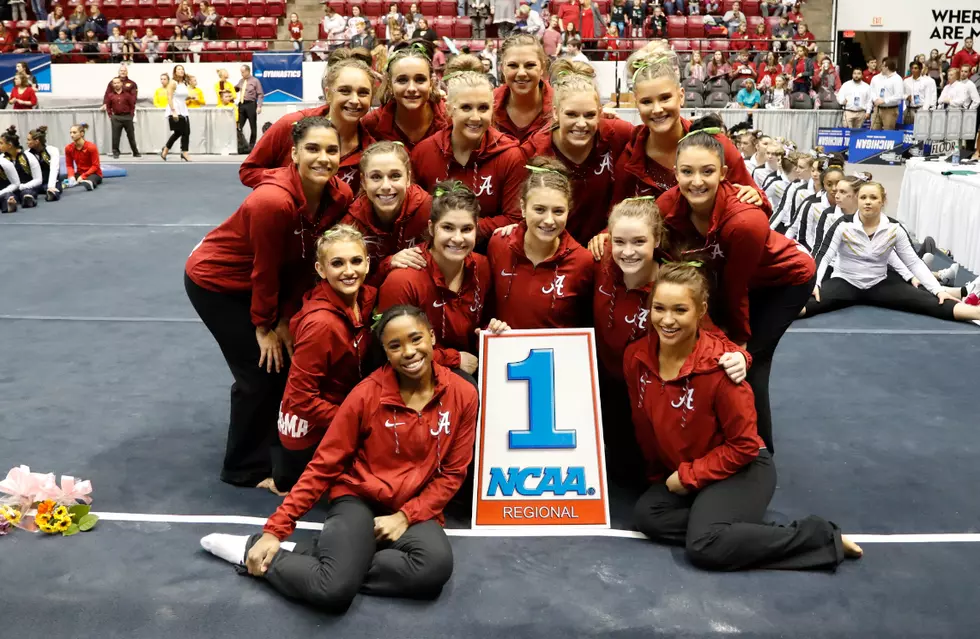 Alabama Gymnastics Wins Its 32nd Regional Title, Advances to 36th-Consecutive NCAA Championships
Photo courtesy of UA Athletics
The Alabama gymnastics team used a 197.225 to win its NCAA-best 32nd regional championship to advance to the NCAA Championships for the 36th year in a row in front of 5,302 fans.
"I'm so proud of this team," UA head coach Dana Duckworth said. "I'm so proud of the consistency and the trust. We talked a lot about being really grateful for everything and entitled to nothing, and tonight we really earned this opportunity and I think they knew we had to execute, we had to do our job, and I think that the ladies did a beautiful job of doing just that and representing The University of Alabama with a lot of pride."
The Crimson Tide finished nearly a three-quarters of a point ahead of second-place Georgia (196.500). The Bulldogs were the second team out of the Tuscaloosa regional to advance to St. Louis and NCAAs.
"It was really loud, actually," UA senior Nickie Guerrero said. "I wasn't expecting it to be that insane, but it made me appreciate all those fans that come every single meet – they showed up today. That was so amazing because they help so much."
While the margin between first and second was fairly wide, the difference between second and fourth was less than two-tenths of a point. Illinois (196.425) was third, while Michigan (196.350) was fourth. Missouri (196.100) and Central Michigan (195.825) rounded out the regional.
Alabama freshman Lexi Graber earned a career-best score of 39.575 to win the all-around. She also took first off the vault with a career-best 9.950. Senior Kiana Winston won the balance beam in the last Coleman Coliseum routine of her illustrious career.
"Being at home was a lot of fun," Graber said. "It was a blessing. Being with this team was just so fun tonight."
In addition to winning the meet, Alabama posted the highest score on all four events.
The Tide opened on the floor exercise with a 49.200 led by Graber's 9.875 and 9.850s from sophomore Maddie Desch and senior Nickie Guerrero. Alabama posted a season-best 49.350 on the vault, paced by Graber's 9.95 and 9.9s from junior Ari Guerra and Guerrero.
After sitting out the third rotation on a bye, Alabama posted a 49.400 on the uneven bars after a trio of 9.9s from Graber, freshman Kylie Dickson and Winston.
With a trip to nationals on the line, the Tide closed things out on the balance beam, where Winston's 9.925 and a 9.875 from Guerrero in the anchor spot pushed Alabama to a 49.275.
"It was just a blessing being able to compete for a final time here at home," Winston said. "My team has my back and I want to have theirs."
After a week off, Alabama will travel back to St. Louis (site of last month's Southeastern Conference Championships) for the NCAA Championships April 20-21.