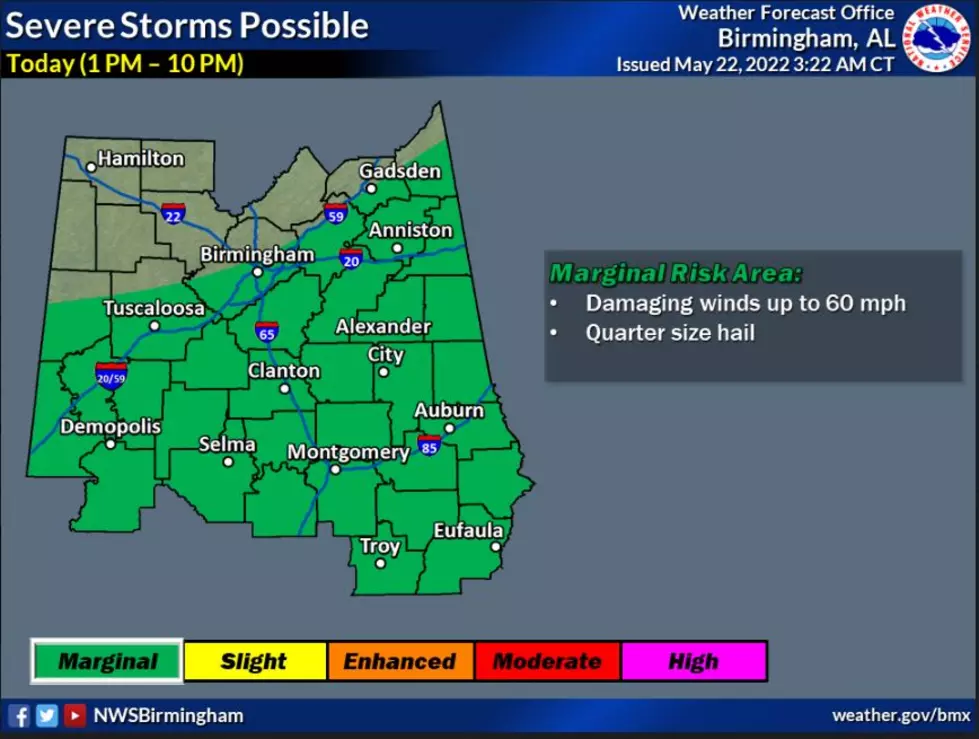 Along, South of I-59 in Alabama Can Expect Strong, Severe Thunderstorms
National Weather Service
Today, Sunday, May 22, portions of Alabama are under a "marginal risk" level. You can expect scattered strong to severe thunderstorms. Also, like yesterday there could be enough "energy for a few storms to possibly produce a microburst," said the National Weather Service in Birmingham.
Where:
Along and south of I-59
When:
1 PM to 10 PM
Threats:
Damaging winds up to 60 mph
Quarter size hail
James Spann, ABC 33/40, and Townsquare Media Tuscaloosa Chief Meteorologist informed us to "look for occasional showers and a few thunderstorms today. Not an "all day" rain, but periods of rain are likely along with a few strong storms; SPC has defined a "marginal risk" (level 1/5) of severe thunderstorms for areas along and south of I-59. Like yesterday, the concern is hail and strong, gusty winds. The high today will be in the low 80s in most places."
Week Ahead
As we kick off another week, Monday until Thursday you can expect showers and thunderstorms with rain totals between 3 to 5 inches. Temperatures will be in the high 70s and low 80s which is much cooler than we have had over the past few days. Also, the threats with this system are damaging winds, hail, and heavy rainfall. We are monitoring the potential for localized flooding.
Memorial Day Weekend
As of right now, the holiday weekend is shaping up to be mostly dry. There will be more on the forecast for the upcoming weekend to come.
(Source) Click here to follow the Facebook Page for James Spann. For more from the National Weather Service Birmingham, click here.
Rare Island Home Showcases Panoramic Views of Alabama's Guntersville Lake
Frank Lloyd Wright Inspired Smith Lake Home
Frank Lloyd Wright Inspired Smith Lake Home
Massive Italian Villa Adorns Alabama's Picturesque Lake Martin
This Alabama Home Features Spectacular Views of Wheeler Lake