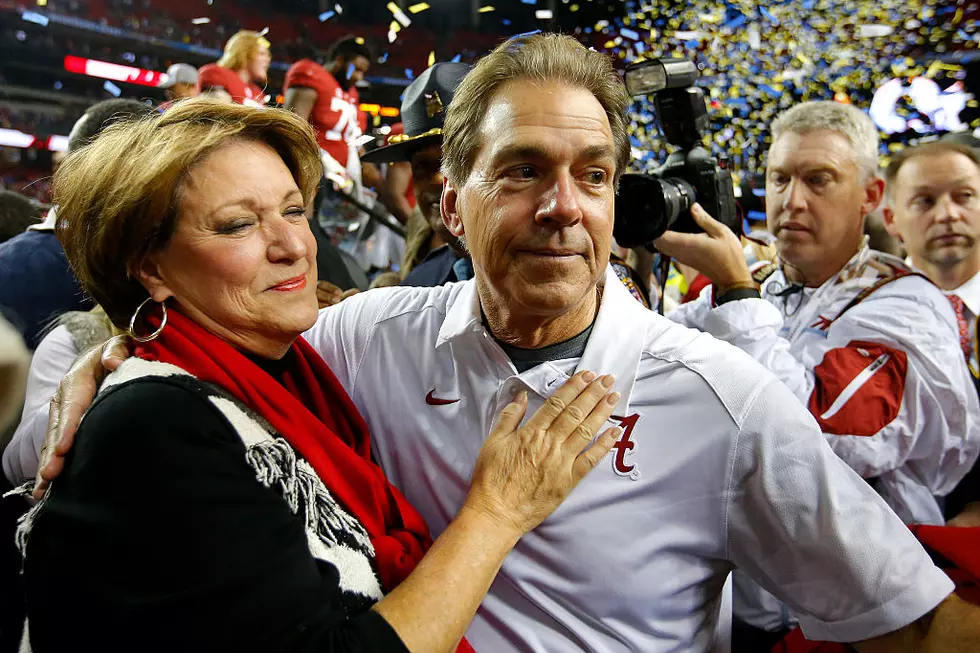 An Ode To Our Favorite Gorgeous Grandma
Getty Images
On National Gorgeous Grandma Day we salute to the Gorgeous Grandma of Alabama Football, Terry Saban. 
Miss Terry, as she's affectionately known to the Alabama fan base is quite simply the true engine of the football program, the glue that holds everything together and the secret sauce that cannot be replicated in other programs. Without her would Nick Saban be able to maintain such laser focus on his program? Would the Crimson Tide be able to recruit at such a high level without her? Would he even have come to Alabama at all? 
Miss Terry became a grandma in 2013 when her son Nick Jr.'s wife had a daughter, Amelie. Her second grandchild was born this year when her daughter Kristen bore a son, James Nicholas Setas. 
Miss Terry is always decked out in her Crimson Tide gear, supporting the program at every turn and it's said that it's her love for the college level of football that helped Coach Saban decide to leave the Miami Dolphins and join the Crimson Tide.  
She can often be found in videos connecting with mothers of incoming recruits, putting them at ease with sending their sons to Tuscaloosa to play football for Coach Saban. After one of Saban's national championship wins she told a reporter that she and Nick would have two days off together to enjoy the season and catch up with one another. The reporter marveled at how little time Coach Saban would take off but Miss Terry spun it to say how grateful she was for that time. 
They say behind every great man is a great woman, and that couldn't be more accurate. On a trip back to their hometown in West Virginia several years back, Coach Saban asked Miss Terry if she was happy she chose him over a high school rival. Miss Terry retorted that he was the lucky one because had she chosen his rival, it would have been Nick pumping gas for the rest of his life, and the rival would have been the successful football coach.  
So on National Gorgeous Grandma Day, here's to you Miss Terry. 
Enter your number to get our free mobile app
Top-10 All-Time Rushers