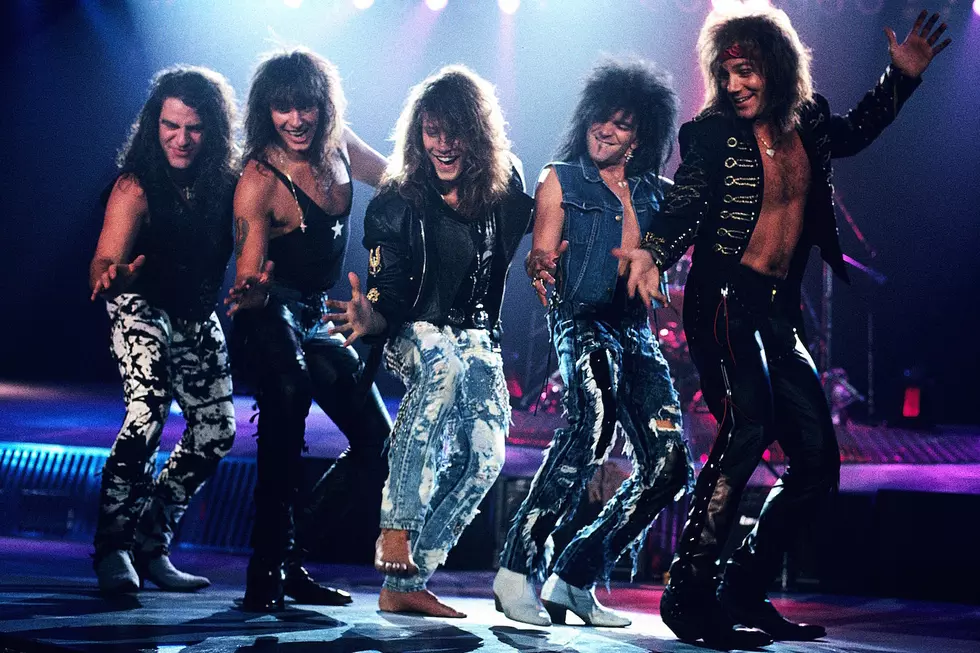 30 Years Ago: Bon Jovi Grow Up and Challenge Themselves on 'New Jersey'
Mark Weiss, Michael Ochs Archive/Getty Images
When Bon Jovi completed their 16-month tour in support of Slippery When Wet, they intended to take time off and recharge. Four weeks to be exact. Then they started working on New Jersey.
"We really didn't do anything for three or four weeks," Jon Bon Jovi told Classic Rock. Hot on the heels of the best-selling album of 1987, Jon Bon Jovi and guitarist Richie Sambora wasted no time getting down to business and writing the follow-up. Both men lived in New Jersey and their check-ins with each other shifted from personal to business. "They changed from 'What're you doing today?' to 'I got this really neat hook!'" Bon Jovi said.
By Thanksgiving 1987, they were in full writing mode; by Christmas, the band had more than an album's worth of material but something was amiss.
"We demoed the first batch of songs, 17 in all and we really started to feel the pressure because we didn't have the amazing song," Bon Jovi recalled. "I panicked, to be honest. I really wanted to do it again. Not for the monetary reasons, but it was such an amazing feeling to have done what we'd done. … I'm walking around the house yelling, 'I gotta pay for this place. We've got to write some fucking hot songs!'"
While it would have been easy to record the first 10 songs they wrote, Sambora was obstinate about not repeating themselves. "The last thing we wanted to do here was put out Slippery Part 2" he said.
But as the band rolled into 1988, it continued writing, eventually bringing key Slippery collaborator Desmond Child, along with Diane Warren and Holly Knight, into the process. Ultimately, the band penned 34 new songs and planned on making a double album until they met serious resistance from their record label, which was dead set against it.
The band then went to Vancouver, returning to Little Mountain Studio to work again with producer Bruce Fairbairn and engineer Bob Rock, who would also mix the album. The key question was how to choose from the more than 30 songs. As it did with Slippery When Wet, the band sought out advice from fans. They had Fairbairn call up his babysitters and told them to invite all of their friends to the studio to listen to the demos.
"They listened to everything, and we gave them all a piece of paper and a pen and told them to write it down what they thought of it and number it," Bon Jovi recalled. "And they did. It works real well. Ultimately they are the ones who got to like the record."
The top-ranking song was "Born to Be My Baby," but it was the high rankings of "Wild Is the Wind" and "Stick to Your Guns" that surprised Bon Jovi the most. "When I had the kids come in and listen to it, ["Wild Is the Wind"]  was the third song they picked," he said. "I don't feel any great attraction to it. I like it but I don't love it."
Watch the Video for 'Bad Medicine'
The album's lead single, "Bad Medicine," served as the perfect tongue-in-cheek rocker that heralded the band's return in September 1988. "That was a funny situation," Sambora told Metal Hammer in 1994, "because that chorus was essentially written when we were shooting a commercial for Fuji tape in Japan, standing in water up to our knees! I was in a rocky, volatile relationship at that point, and all of a sudden this title just banged up into my head: 'Bad Medicine.' I walked up to Jon on the set between takes and I said it to him, and he said, 'Yeah, hang onto that because we're going to make that real good.' We rewrote it and rewrote it and rewrote it, until it was really, really very good."
The album's second single, "Born to Be My Baby," served as a thematic sequel to "Livin' on a Prayer" with its focus on the everyday struggles ordinary people go through. (Tommy and Gina, the main characters from that earlier song, even got a shout-out in "99 in the Shade.")
The explosive album opener, "Lay Your Hands on Me," was a studio creation that wasn't demoed. During the recording, the band was visited by the video production team of producer Curt Marvis and director Wayne Isham, who encouraged the group to write a song that would open its show in a grand and mighty fashion. Using African drums inspired by Peter Gabriel, whom they had seen on his So tour during the summer of 1987, they created the song as "a way to say that, even after the success of Slippery, and say what you will about the band now, that we're still accessible," Bon Jovi said.
Watch the Video for 'Lay Your Hands on Me'
New Jersey also featured a pair of ballads that were eventually released as singles. "I'll Be There for You" is distinguished by Sambora's bluesy guitar and served as a showcase for his and Bon Jovi's harmonies. "Living in Sin" was the only song from New Jersey to be written in California and the lone solo Jon Bon Jovi composition on the album. He tapped into his Catholic upbringing for the lyrics, which reflected the state of his relationship with Dorthea Hurley, who became his wife in April 1989 in the middle of the New Jersey tour.
Even with those five singles, the record's centerpiece, to many fans, was "Blood on Blood." Inspired by Rob Reiner's movie Stand by Me, the song brims with sentiment like no other in the band's catalog. During press stops for the album, both Bon Jovi and Sambora pointed to this song as their proudest accomplishment as songwriters, with Sambora comparing it to the "emotional roller coaster of a movie. "As long as those pictures are painted still, with the lyrical content and you get that feeling at the end of a song," he said. "We look to find what happens at the end? How do you feel at the end? ... 'Blood on Blood' is something we really live by."
Watch the Video for 'Blood on Blood'
New Jersey closed with "Love for Sale," an acoustic blues jam lifted directly from the demo tape recording made by the band. "We let you inside the room where we write our songs," Bon Jovi said. "Now you see how it goes down. ... Just to show you a little more personality of the band."
"Jon and I just sat down with a bottle of wine, a harmonica and just started to wail," Sambora added.
They originally wanted to title the record Sons of Beaches, with cover art that would take images from the Jersey Shore and mesh them with a design that referenced the Beatles' Sgt. Pepper's Lonely Hearts Club Band. But they changed their mind and named it after their home state instead.
"It's not necessarily the place 'New Jersey,'" Bon Jovi explained. "It's the same thing as I imagine Sheffield to be, or Liverpool to be, or Pittsburgh or Cleveland here in the States for point of reference. It's a place you are from, but it's an attitude that you carry around with you."
Because the press and fans had put such a heavy focus on their look, especially the members' hair, Bon Jovi decided not to put themselves on the album's cover. "I don't feel that we need to depend on pictures of the band," Bon Jovi said at the time. "I'd rather be known because we wrote great songs." "Let the music do the talking," Sambora added. "The videos and the magazines ... they'll overexpose you enough."
Released on Sept. 19, 1988, New Jersey debuted at No. 8 on the Billboard Top 200. One week later it surged to No. 1, where it stayed for four weeks before being supplanted by U2's double album Rattle and Hum. It stayed on the chart through January 1990, selling 7 million copies in the U.S. and another 5 million overseas. It is still the only hard rock album to have five singles hit the Top 10 on the Billboard Hot 100, with "Bad Medicine" and "I'll Be There for You" both reaching No. 1.
Bon Jovi supported the album with a 16-month world tour of arenas and stadiums that started on Halloween in Dublin and concluded after 237 shows in February 1990. While the studio and the songwriting process were integral to Bon Jovi, the road is where they flexed their chops on a nightly basis, pushing themselves while cementing their legacy and circling the world. In a pre-tour interview in 1988, Sambora said it best when he reflected, "Your home is the stage. I think we will continue to be cowboys for as long as we live."
Bon Jovi Albums Ranked