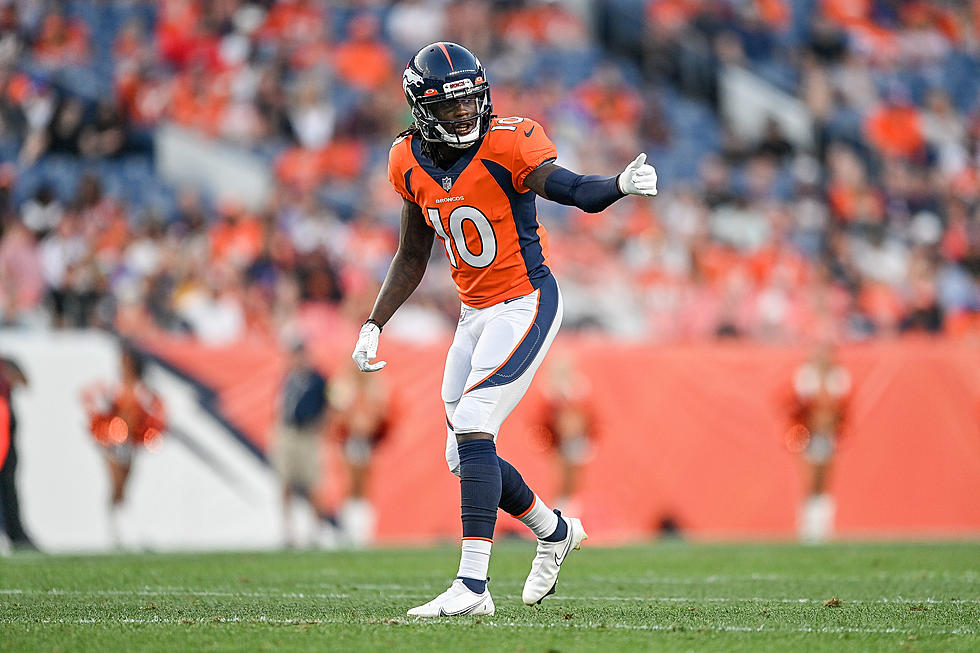 Breaking: Russell Wilson to Jerry Jeudy?!
Getty Images
Former Alabama receiver Jerry Jeudy looks to finally have an elite quarterback to get him the ball this upcoming season.
In a blockbuster trade, the Seattle Seahawks have agreed to trade QB Russell Wilson and a 4th round pick to the Denver Broncos for QB Drew Lock, TE Noah Fant, DL Shelby Harris, two 1st round picks, two 2nd round picks, and a 5th round pick.
This trade news comes just a couple of hours after the two-time reigning MVP Aaron Rodgers was announced to be returning to the Green Bay Packers with a deal that will make him the highest-paid player in NFL history. Denver was one of the teams who were likely willing to make a trade offer with the Packers if Rodgers wanted a trade.
Jeudy showed his disappointment in hearing the Rodgers news by tweeting a single emoji on Twitter.
In the same fashion on Twitter, Jeudy showed his excitement to hear that Wilson will be coming to join him in Denver.
In his first two seasons with the Broncos, Jeudy has 1,323 yards receiving and three touchdowns on 90 receptions. Last season, he suffered a right high-ankle sprain in the first week of the season in a win over the Giants, and was subsequently placed on injured reserve and missed the next six games. He ended up catching no touchdowns during the 2021 season and the Broncos went 7-10 and placed last in the AFC West.
Jeudy's lack of success in the pros so far isn't completely his fault though, as Denver's franchise has been inconsistent. The team has gone through a QB carousel in his young career, constantly switching between starting Drew Lock and Teddy Bridgewater. He has also had a recent change in coaches as his head coach of two years, Vic Fangio, was fired one day after their season finale last season and replaced by Nathaniel Hackett, who brought in a whole new coaching staff with him.
Wilson is very familiar with Denver as he beat the Broncos in Super Bowl XLVIII, outplaying the vaunted Denver offense led by Hall of Fame quarterback Payton Manning by passing for 206 yards and two touchdowns in the Seahawks 43-8 victory. That victory gave the Seahawks its only Super Bowl win in franchise history.
Since entering the NFL 10 years ago, he ranks first all-time in wins with 113, second in pass touchdowns with 292, and first in Pro Bowl selections with nine.
With the new addition, the Broncos are now touting an offense that has QB Wilson, WR Jeudy, WR Courtland Sutton, RB Javonte Williams, and TE Albert Okwuegbunam.  Denver's defense is solid too, as they finished the 2021 season being eighth in yards allowed with 5544, fifteenth in average yards allowed per carry with 4.29, and third in red zone TD percentage allowed with 48.8.
Alabama Crimson Tide All-Time Receiving Leaderboard
Starting Alabama Quarterbacks Under Nick Saban
Here is every quarterback that has started for the Crimson Tide under Nick Saban.
When Tennessee Beat Bama, These Things Didn't Exist