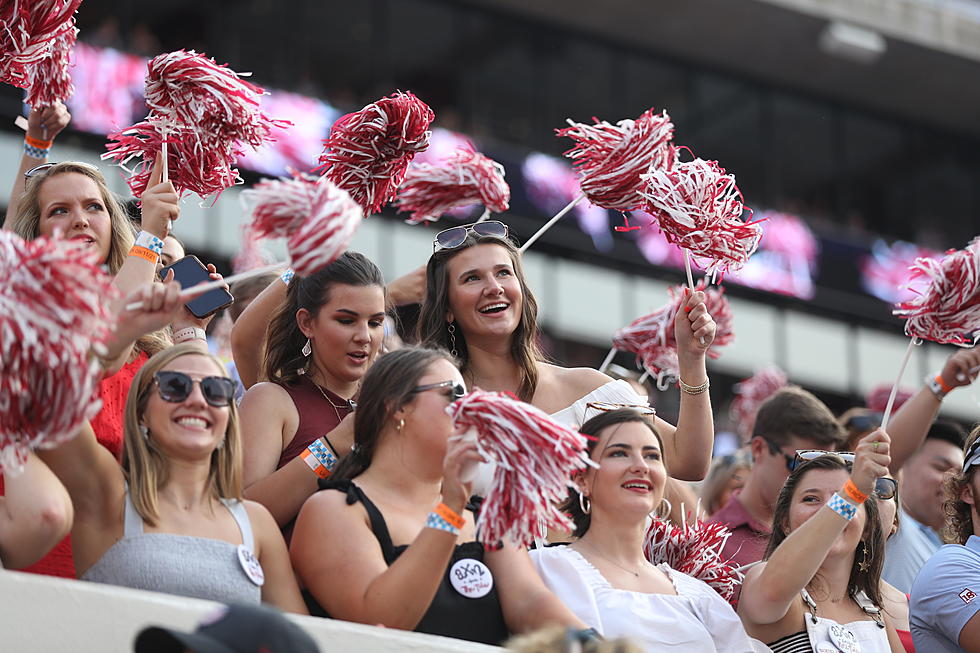 An Open Letter to Crimson Tide Fans: It's Time to Do Your Job
Crimson Tide Photos / UA Athletics
Bryant-Denny Stadium is not one of the nation's most hostile environments. 
Yes, you read that correctly.
The behemoth temple of football that houses not only the 18-time national champion Alabama Crimson Tide, but upwards of 100,000 fans for every single home game, is far from one of the most intimidating places to play in college football.
It was painfully clear this past Saturday just how much a raucous home crowd can affect a team, as the Crimson Tide struggled mightily against a Florida team they led 21-3 in the first quarter.
About 90,000 strong packed into Ben Hill Griffin Stadium for the Gators' showdown with Alabama, and despite some first quarter false start penalties, the Crimson Tide appeared to easily jump out to the early lead. As Florida slowly gained momentum; however, the crowd began to show its influence.
Alabama ultimately walked away Saturday with a sloppy win. The Crimson Tide, however, were penalized 11 times, with over half of them being simple communication errors like false starts and delays of game.
Crowd noise -- noise that was achieved with 10,000 fewer fans than what our home stadium can hold -- directly contributed to those struggles.
When was the last time a crowd at Bryant-Denny was that loud?
You may think to yourself, "Easy answer. Georgia in 2020 or LSU in 2019."
To that, I would tell you you're wrong. The LSU Tigers came into Tuscaloosa and beat Alabama in 2019, in case we all forgot, and did it with zero false start penalties and just two early delays of game.
The Bulldogs stormed into Tuscaloosa and, while they were put down rather handily, picked up zero false starts, zero delays of game and zero illegal substitution penalties, all of which typically occur in a hostile environment.
Even in the game that fans supposedly wait the entire year for, the annual Iron Bowl showdown between Alabama and Auburn, Crimson Tide faithful could barely throw off the Tigers' game in 2020. Auburn, outside of being simply outmatched, played a clean game and, much like Georgia, was entirely unaffected by the crowd, finishing the loss with zero false starts, delays of game and illegal substitutions.
When looking at the Crimson Tide's last three most notable road losses, a common trend can be found. In losses to Auburn in 2016 and 2019, and Ole Miss in 2014, Alabama picked up a combined 10 false start penalties and two delays of game.
Once again, a direct result of intense crowd noise. 
The bulk of Alabama's SEC schedule is swiftly approaching, and Lane Kiffin and the Ole Miss Rebels are tirelessly preparing for their bout with the reigning champions on Oct. 2.
Nick Saban has mentioned for years just how much a rowdy crowd can impact the outcome of a game, and this week leading up to Southern Miss has been no different. In his weekly press conference, the irritated coach took a jab at the home field fans, saying, "I'd like to see our fans, you know, have some passion and enthusiasm and energy for this team. I think it would be helpful to them."
Later in the week, on his weekly radio appearance, Saban continued criticizing fans, saying, "There's a spirit and a passion that people who support the program and people who come to the games provide. A spirit and passion that affects players."
Coach continued, raising his voice slightly, "I don't want anyone to ever say that it's harder to play somewhere else than it is to play here. Let's just get some practice on what we got to do to fill the stadium and have some spirit and passion for our team. Let's everybody be a part of the team."
While these so-called jabs may seem rather insignificant, Saban has repeated the same sentiment for several seasons now, commenting on the dedication of the fans in Bryant-Denny Stadium on a given Saturday.
In 2018, Saban made clear his opinion on the turnout for a home game against Louisiana-Lafayette, telling the media, "I can honestly say I'm disappointed there weren't more students at the last game."
Saban continued, visibly frustrated, "I don't think they're entitled to anything. You know when I first came here, they used to play that tradition thing out there before each game and everyone was cheering and there was great spirit. Now, they introduce our players and no one even cheers."
Make no doubt about it, Alabama is welcoming a buzzsaw Rebel team into Bryant-Denny Stadium on Oct. 2, and the crowd could play a major factor in the outcome of the game.
So, Alabama fans, take Saban's advice.
Do your job, and be a part of the team. 
Alabama vs. Florida - Week 3 2021
Alabama took down Florida 31-29 in the SEC season opener for both schools.
Alabama Football's Record Against the SEC & Other Major Opponents
The Alabama Crimson Tide is 929-331-43 all-time in college football. See how the records fall against the Tide's SEC rivals and other top programs in the nation.
How Do Fans Sing 'Dixieland Delight' in Tuscaloosa, Alabama?
Alabama football fans add
a few extra lyrics
to 'Dixieland Delight' when it's played on the speakers in Bryant-Denny in Tuscaloosa, Alabama. What are they singing? And Why?