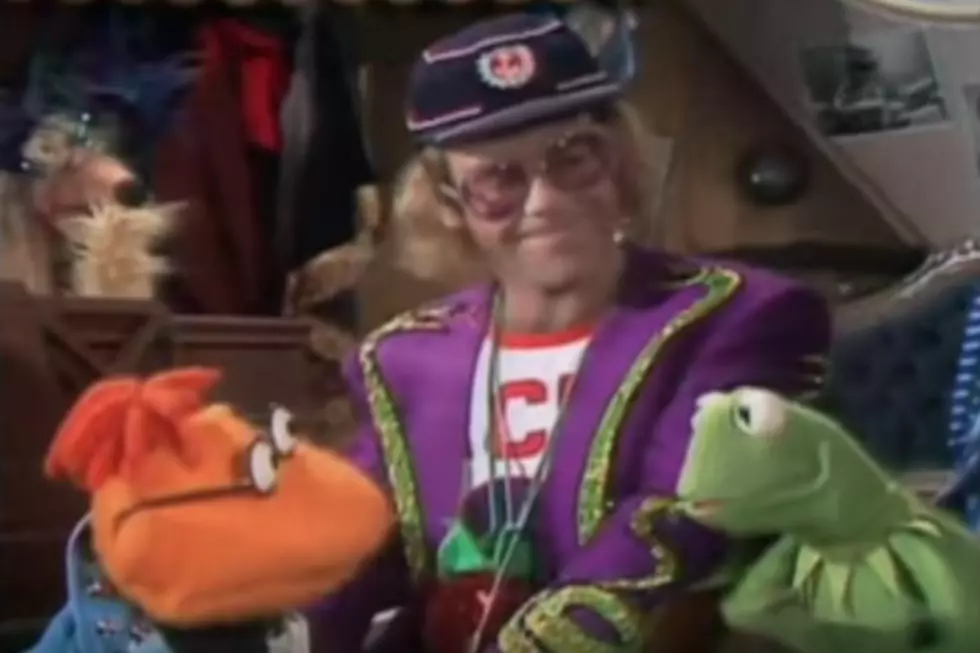 40 Years Ago: Elton John Performs on 'The Muppet Show'
YouTube
By the time Elton John made his first appearance on The Muppet Show in February 1978, he already had 11 studio albums under his belt — including a Top 3 hit with his latest, 1976's Blue Moves — but the singer and songwriter had decided to stop touring.
But a one-off appearance on the show, then in its second season, was a different story. And just like his fans, the Muppets ate him up — quite literally at the start.
As an opening number, John performed his first No. 1 single, "Crocodile Rock" — from 1973's Don't Shoot Me I'm Only the Piano Player — with a little help from the Electric Mayhem and a chorus of crocodiles. You'd almost need John's shades to watch the onscreen scene, which found him donning full peacock regalia, replete with feathers and a mirrored cap, in the jungle. When he frees his hands from the piano to direct the song's chorus, the crocodiles sneak up on him and begin dragging him down into the water until Kermit saves the day. "How many times have I told you, Never eat the guest star at the beginning of the show?" he asks.
The Rocket Man had already been long associated with flamboyant and brightly colored outfits, killer platform shoes and oversized sunglasses, but he clearly saved his best duds for this occasion, with the curmudgeonly Sam the Eagle memorably questioning his taste. "Why does he dress like a stolen car?" he asks Kermit, who explains that important musicians throughout history have creatively adorned themselves, even the likes of Mozart. When Sam doesn't buy it, the two make a bet that he loses. Fast-forward to Sam introducing John for another number, this time with the eagle also showing off some fancy duds and then literally "eating his hat."
Watch Elton John Perform 'Goodbye Yellow Brick Road' on 'The Muppet Show'
But there's no doubt John would have caused a commotion no matter what he wore. Other celebrities had previously popped in on the Muppets, but he was the first true rock star to join them.
Leading the pack of admirers was Scooter, John's biggest, swooning fan, who introduces the star as "the greatest talent in the history of the universe." (Even Miss Piggy was a fan -- when Kermit asks her if she likes John, she says, "He's fantastic!") Scooter convinces Kermit to let him perform a song he's written for the guest.
He sings it in John's dressing room, along with his fellow Muppets, crooning out-of-tune nonsense, before John puts a stop to it and Kermit quickly interjects apologies. "I told you Elton wouldn't like that song," he tells Scooter. "That song is tasteless. That song has no melody. That isn't that the worst song you've ever heard, Elton?" The kicker comes when John responds, "Well, I didn't think so when I wrote it." Turns out it's his 1973 hit "Bennie and the Jets," which he the performs for the Muppets.
Watch Elton John Perform 'Bennie and the Jets' on 'The Muppet Show'
But Miss Piggy gets to hog the spotlight too. On John's final number, she sings a duet with the guest star for a rendition of "Don't Go Breaking My Heart," the 1976 duet with Kiki Dee that ended up being John's last No. 1 of the '70s. At one point, Miss Piggy exclaims, "Eat your heart out, Kiki!"
Watch Elton John Perform 'Don't Go Breaking My Heart' on 'The Muppet Show'
It was a rollicking finale to one of the series' finest episodes. Other rock and pop stars would soon follow John's lead and guest star on syndicated show before it went off the air in 1981.
The Muppets Meeting Rock Stars: 31 Magical Moments