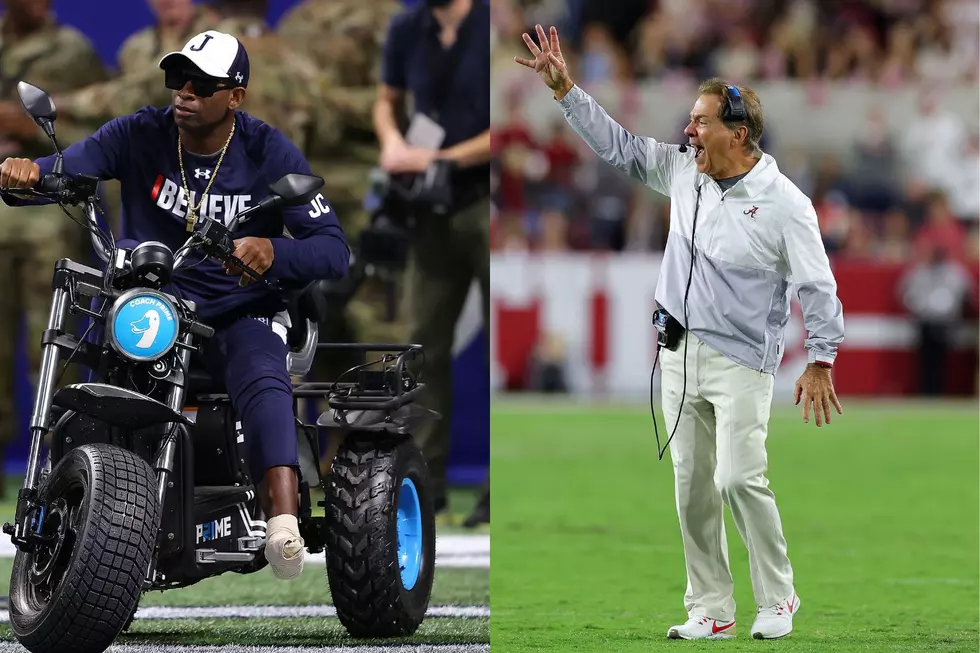 Is Coach Prime Ready To Face Nick Saban On The Gridiron?
Canva, Getty Images
Regardless of what people may think, Alabama is still a top-tier college football program.
Last year we took a few hard losses, this year, we took what may be one of the biggest losses in history.
It feels like within the last few years there's been a kind of rivalry between Nick Saban and Deion Sanders, also known as Coach Prime.
In the beginning, I thought they were cool, appearing on commercials together, and praising each other's programs. But they always felt like there was this underlying desire to match up against each other on the gridiron.
Recently, ESPN college football game day made an appearance at the Boombox Classic.
If you know anything about HBCU culture, the Boombox Classic features elite marching bands with great football programs and the energy is unmatched.
While in Mississippi at Jackson State University for the Boombox Classic, ESPN's College Game Day tweeted a sign from a Jackson State University fan.
The sign read "We Want Bama."
It got me thinking, "what if?"
What if Jackson State University ended up playing Alabama on the gridiron?
What would the score be? Who would reign supreme?
Earlier this year, Coach Prime made a comment about playing Power 5 schools and said "I've gotta get beef up in the front."
Coach Prime also mentioned that he'd need another year to be ready to play Saban. That year is almost up.
Will the game happen?
It's no secret that HBCU programs like Jackson State University do not get the funding that a school like Alabama or Clemson gets, which ultimately hinders the performance potential of the football players.
With that aside, what do you think will happen if they met up together on the field?
A Twitter user tweeted the score 75 to three in favor of Alabama.
Another user tweeted insinuating that Alabama's football player stat lines would be comparable to NBA legend Wilt Chamberlain's after that game.
While I fully support Nick Saban, as an HBCU alum, I would love to see Coach Prime take on a top-tier college program football and win the game. Even if it's against Alabama.
Happy Birthday to Coach Nick Saban
The greatest college football coach of all time turns 71 today! Take a look at a picture of Nick Saban everywhere his coaching journey has taken him before arriving in Tuscaloosa!
Alabama vs Mississippi State 2022
New Threads For Alabama's NFL Rookies
Check it out! The new NFL rookies out of Alabama already have their jerseys for 2022.