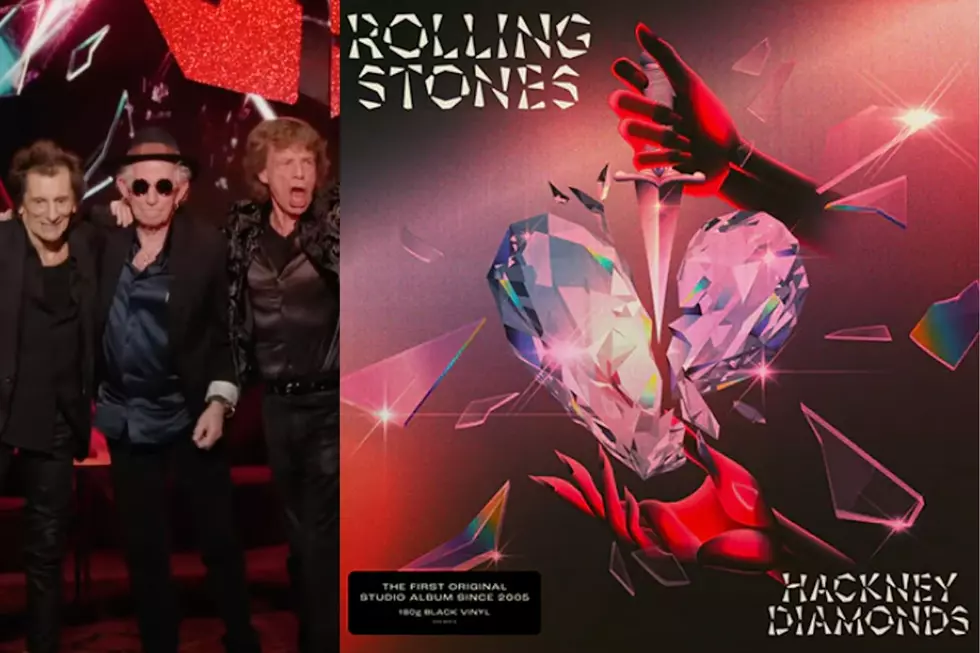 The Rolling Stones Announce New Album, 'Hackney Diamonds'
YouTube/ therollingstonesshop.com
The Rolling Stones have announced a new album called Hackney Diamonds.
The band announced the LP in a live conversation with Jimmy Fallon that was broadcast from London on Wednesday. Hackney Diamonds was produced by Andrew Watt and will be released on Oct. 20. It marks the Stones' first album since 2016's Blue & Lonesome and their first collection of new original material since 2005's A Bigger Bang.
"It's a great place for a band to work it all out," Keith Richards said of working in the studio with the Stones.
"We wouldn't have put this album out if we didn't really like it," Mick Jagger added. "We must say that we are quite pleased with it ... and we hope you all like it."
Ahead of its release, the Stones have offered up the first single from the album, "Angry" below. You can also see the album's track listing below.
New Rolling Stones Music
The first hints of new music started arriving in 2020, around the time the band recorded their surprise single "Living in a Ghost Town." In 2021, Jagger noted that the band was still working on new music before the death of drummer Charlie Watts, who appears on the new album. "Charlie did some work on just a few fills and stuff like that," Jagger said at the time. "Without Charlie being there, it's going to be very difficult."
"Ever since Charlie has gone, it's different," Richards noted during the conversation with Fallon. Two of the album's 12 tracks were recorded with Watts in 2019. One of those tracks also features original bassist Bill Wyman, who left the band in 1992. There's also a guest appearance by Lady Gaga on a track called "Sweet Sound of Heaven."
READ MORE: The 10 Weirdest Rolling Stones Songs
In March 2022, Richards discussed how the new music began to take shape with drummer Steve Jordan, a longtime collaborator of Richards who was Watts' touring replacement.
"It'll be interesting to find out the dynamics now that Steve's in the band," Richards said. "It's sort of metamorphosing into something else. I was working with Mick last week, and Steve, and we came up with some, eight or nine new pieces of material. Which is overwhelming by our standards. Other times, [songwriting is] like a desert."
Richards was seen heading into Electric Lady Studios in New York City last year, supposedly putting the finishing touches on the album. Earlier this month, the band teased the album by placing an ad in a newspaper called the Hackney Gazette. They also launched a new website with that name.
The Rolling Stones, 'Hackney Diamonds' Track Listing
1. "Angry"
2. "Get Close"
3. "Depending on You"
4. "Bite My Head Off"
5. "Whole Wide World"
6. "Dreamy Skies"
7. "Mess It Up"
8. "Live by the Sword" (With Charlie Watts)
9. "Driving Me Too Hard"
10. "Tell Me Straight" (Keith Richards on lead vocals)
11. "Sweet Sound of Heaven" (Feat. Lady Gaga)
12. "Rolling Stone Blues"
Rolling Stones Albums Ranked
Ready to journey through the past (darkly)? Check out Rolling Stones Albums Ranked Worst to Best.