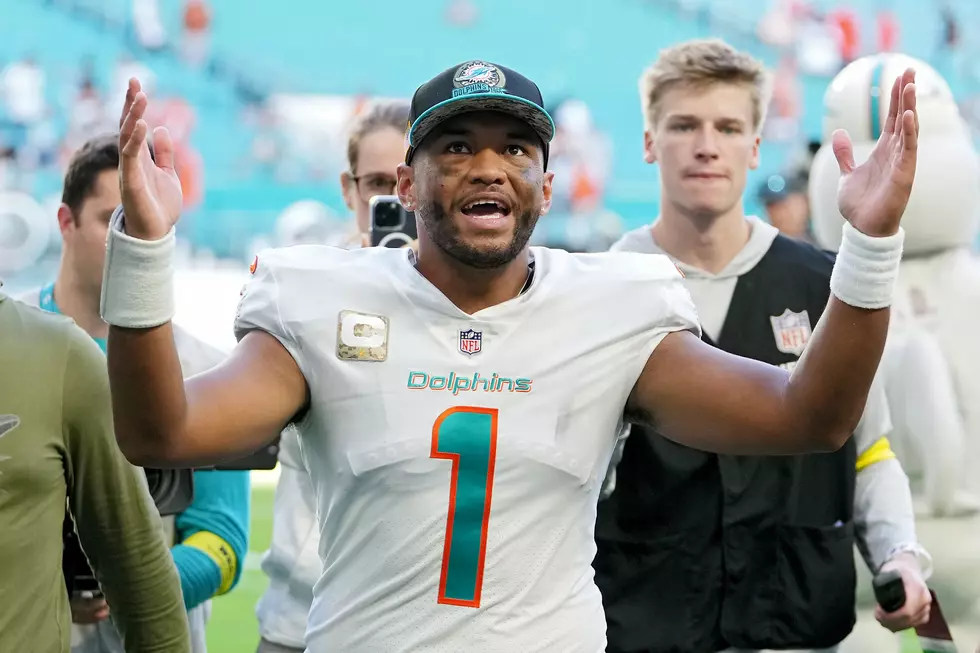 The Newest Member of the Tua Tagovailoa Fan Club
Getty Images
Former Alabama quarterback Tua Tagovailoa is having an incredible season for the Miami Dolphins. The Dolphins currently lead the AFC East by one game despite playing a game without Tagovailoa due to a head injury.
After the "Hawaiian Prince's" home victory over the Cleveland Browns on Sunday he was spotted with the most adorable fan in Hard Rock Stadium.
Has Tagovailoa become a father? While it certainly is possible the baby being held by his wife in post game photos is a niece or nephew, it is much more likely that the beautiful baby, inserted in between the congratulatory kiss, is the fruit of a productive marriage. 
To double down the 2017 national champion holds the baby and gives the young 'fins fan a kiss.
The Miami Dolphins offense is coming together on the field, producing the third most yards per game in the league and sitting with the third overall seed in the AFC if the playoffs started today. Becoming a father will change a man, outside of the addition of wide receiver Tyreke Hill could Tagovailoa be announcing the real reason for his enhanced play?
Tagovailoa is having the best season of his career with 2265 yards with 18 touchdowns and just three interceptions in eight games. He is leading the Dolphins to the 2022 division lead and dating back to last season he is 13-2 in his last 15 starts under center.
The Dolphins can't be stopped after the addition of Hill, Jeff Wilson, Raheem Mostert, Terron Armstead and more. Life really is coming together on and off the field for Tagovailoa and it's wonderful to see after the terrible hip-injury that cut his Crimson Tide career a few weeks short and put his career in jeopardy.
Starting Alabama Quarterbacks Under Nick Saban
Here is every quarterback that has started for the Crimson Tide under Nick Saban.
Highest Earning Bama Pros of All-Time
The University of Alabama is known for constantly cranking out world-renowned athletes, but who of the best active or former pro players have the highest career contract earnings?
Nick Saban's Coaching Tree: Where Are They Now?