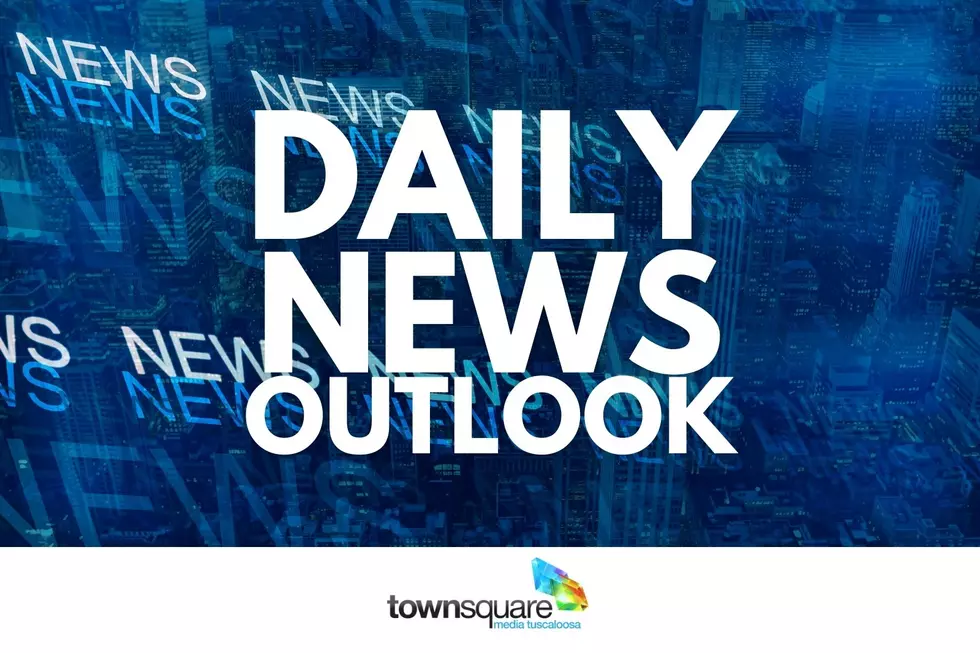 WEST ALABAMA FRIDAY BRIEFING
Canva
It is Friday, May 26th, 2023, and the forecast calls for the sky will be become partly cloudy by afternoon with a slight chance for showers and thunderstorms across Lamar, Fayette and Walker Counties and northward. Daytime high temperatures will range from the upper 70s to the lower 80s. Tonight, will be partly cloudy to mostly clear with a slight chance of a shower or thunderstorm north of Tuscaloosa and Pickens Counties. Overnight low temperatures will be in the 50s.
The Memorial Day Weekend begins at 12:01tonight. There will be sunny to partly cloudy skies across West Alabama Saturday and Sunday. Memorial Day itself will be sunny. Highs over the long holiday weekend will be in the rather mild lower 80s with overnight lows in the coolish upper 50s.
------
In the news:
Memorial Day Weekend is unofficially considered as the beginning of the summer travel season. 42 million drivers are expected to hit the road nationwide. Three million Americans are expected to fly.
ALEA Troopers will be out in force on roads and waterways to keep people safe. Thy are advising motorists to not drink and drive, keep attention on the road and not cellphones and obey speed limits.
ALDOT will not be conducting road work over the holiday weekend, but the work zones will still be there. Troopers are asking motorists to slow down when you approach the orange barrels.
------
Cottondale Republican State Senator Gerald Allen has introduced Senate Bill 344 in the upper chamber. It proposes, "an amendment to the Constitution of Alabama of 2022, relating to Tuscaloosa County, to authorize a referendum on the merger of the county government and the municipal governments of the City of Tuscaloosa and the City of Northport into an urban-county form of government".
The bill was introduced on Tuesday and has had its first reading in the senate. If approved by voters, the bill would establish a Metro Government of Tuscaloosa County. Allen states in the bill that the goal is to facilitate the operation of local government, to prevent duplication of services, and to promote efficient and economical management of the affairs of local government.
------
Several hundred protestors are expected for a rally in Carrollton at noon today. They are demanding answers and someone to be held accountable for the death of former New Orleans Saints player Glenn Foster Jr., who died in Pickens County Sheriff's Office custody in December of 2021.
Foster was arrested on Dec. 4th and died two days later after being found unresponsive in the back of a police vehicle after arriving at the Northport Medical Center.
An official autopsy attributed Foster's death to natural causes. An independent autopsy disagreed.
------
The State House has voted to rebate Alabama taxpayers $210 for individuals and $420 for couples in November. The funds will come from a surplus in the Education Trust Fund. Final approval must come from the Senate before Gov. Ivey can sign the legislation she proposed in her State of the State Address.
------
Legal authorities in Georgia will not challenge a Georgia Supreme Court ruling that overturned the conviction of Tuscaloosa native Justin Ross Harris in the June 2014 hot car death of his 22-month-old son, Cooper. A judge sentenced him to life without parole, as well as 32 more years in prison for other crimes. But the court found that some evidence had prejudiced the conviction.  Harris remains in prison on the other charges.
------
During a telephone town hall, West Alabama Democratic Congresswoman Terri Sewell is blaming Republicans for manufacturing a debt ceiling default crisis by demanding budget cuts.  Rep. Sewell worried that a default would result in more than 100,000 of her constituents losing Social Security and Medicare support. If a compromise between and GOP and White House cannot be reached, the U-S will run out of money to pay its bills on June 1st.
------
The crimson red interstate "arch bridge" over Tuscaloosa's McFarland Boulevard is now the Luther Stancel Pate III Memorial Bridge. Alabama Governor Kay Ivey signed a resolution sponsored by state Senator Gerald Allen Thursday afternoon making the change. The bridge is now named after the father of Tuscaloosa businessman Stan Pate.
------
In sports:
Bama Baseball eliminated Auburn from the SEC Baseball Tournament 7-4 yesterday and now moves on to play Vanderbilt tonight in yet another elimination game.
5th Seeded Alabama Softball host 12th Seed Northwestern tonight at 7:00 in the first game of the NCAA Tuscaloosa Softball Super Regional. The two will face off again at 8:00 Saturday night. An, if needed, game will be played at a time to be determined on Sunday.
Have a happy and safe Memorial Day weekend and most of all remember what the holiday is for. Spend some time reflecting on the lives of American men and women lost in service to our country. Without them we wouldn't have the freedom to travel, barbeque or spend the weekend on the lakes or rivers.