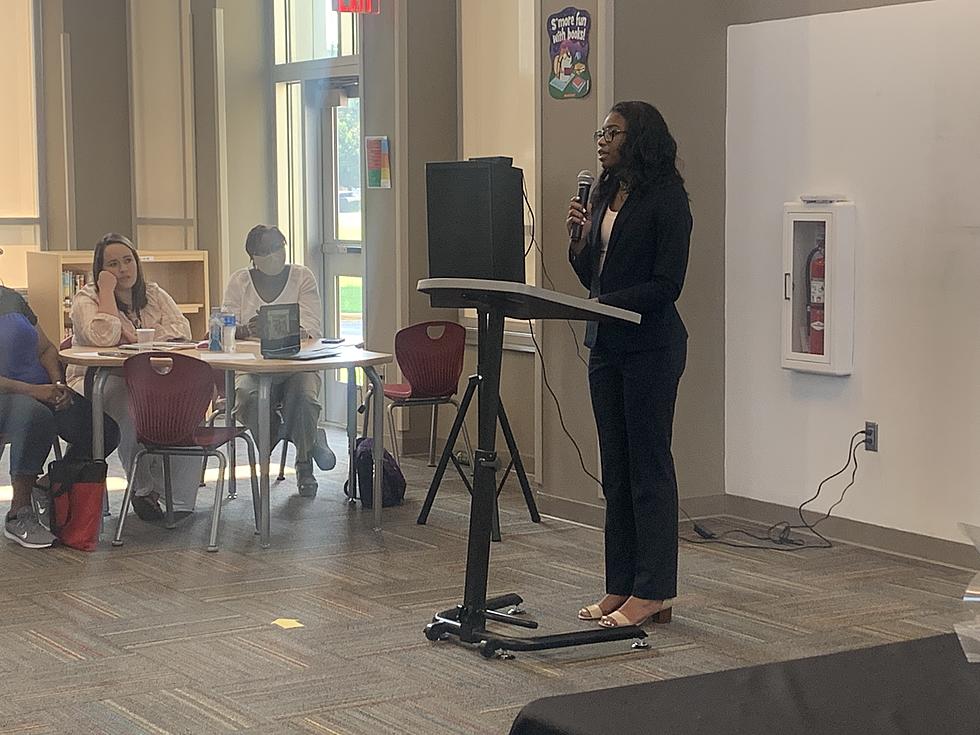 Tuscaloosa, Alabama Teen Will Graduate High School, College At the Same Time
Savannah Bullard, Townsquare Media
LeAnna Roberts has been pretty busy this summer.
At only 15 years old, Roberts is the youngest person to graduate from Central High School. What's even more impressive is that through a dual-enrollment program at Shelton State Community College, she will also be earning her Associate's Degree in biology as well, all in the same academic year.
The Tuscaloosa teen visited Central Elementary Wednesday to address the faculty and staff during their back-to-school kickoff meeting. Her message was simple – she credits her astounding success to four things: God, hard work, family, and all the educators who led the way for her.
"Entering high school, of course, no one ever said, 'Hey LeAnna, I think you should graduate in three years.' But what I did receive was the constant motivation and support and, whether it be from a teacher or principal or administrator, I was always told that whatever I want to do, not only can I do it, but I will do it," Roberts said to a library full of Central Elementary School's faculty and staff Wednesday morning.
While Roberts did not attend Central Elementary – she skipped kindergarten, completed first and second grade at Rock Quarry Elementary School, then transferred to Tuscaloosa Magnet School to finish third through eighth grade – she did become a part of the Central family by completing the entire high school curriculum before getting her driver's license.
"When it was time to select a high school, Central interested my family and me because of their dual-enrollment and IB (International Baccalaureate) programs," Roberts said.
While the arrival of the COVID-19 pandemic abruptly cut Roberts' ninth-grade year short, she still earned several honors and recognitions – more than most high school students achieve in an entire four-year career. Roberts was elected freshman class president, served on the homecoming court, was a cheerleader, played tennis and took on other leadership positions through various clubs and organizations.
Soon after entering ninth grade, she began taking advantage of Shelton State's dual-enrollment program, using her newfound free time during the pandemic to knock out several classes and complete her Associate's Degree. Roberts maintained a 4.0 GPA at both institutions simultaneously.
"I fell in love with the challenge of being surrounded by people who enjoyed learning and being able to take classes that were tailored to what I want to do in life," she said. "Through my success in the program, I'm able to graduate early and attend the University of Alabama in the fall on an academic scholarship with hopes to become an orthopedic surgeon. And, I'm also going to get my Master's in Business Administration from there."
Roberts told the CES faculty that her most impactful learning experiences were ones where "projects and the application of content have been vital to its understanding." She added that her learning philosophy is best defined as being 20% what you know, and 80% what you do with it.
"One of my biggest motivations has been striving to ensure that what I've learned in classrooms is something that I transfer into something impactful to communities worldwide," Roberts said. "As a student, it's been impossible to not notice how I've been inspired by the many traits and characteristics teachers embody every day. Your selflessness, sacrifice, and ability to adapt to any situation have been something for me to look up to, and I aim to transfer that to my day-to-day life."
Roberts concluded her address by asserting that if it weren't for all the enriching learning opportunities she had experienced as a child – all made possible by her teachers – there is no way she would be interested in a field "where so much education is required."
Tuscaloosa City Schools kicks off its 2021-22 year on Aug. 12. Shelton State Community College and the University of Alabama resume classroom operations on Aug. 17 and 18, respectively.
For all the latest news and updates for education in West Alabama, stay connected to The Tuscaloosa Thread.
Which School Systems Require Face Masks in West Alabama?
In Pictures: What Education Looks Like Around the World During a Pandemic
READ ON: See the States Where People Live the Longest
Read on to learn the average life expectancy in each state.