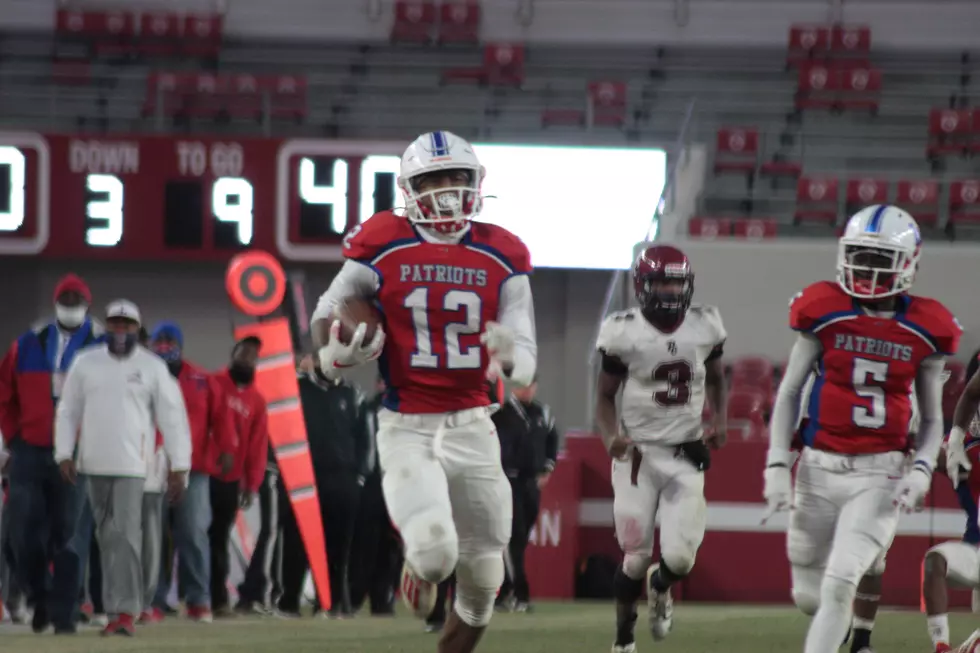 Linden Takes Down Pickens County in State Finals
Photo By J.R. Moore
The Linden Patriots (15-0) defeated the Pickens County Tornadoes (11-4) for the second time this season to win the AHSAA Class 1A State Championship. The Patriots book-ended its season with victories over the Tornadoes, defeating them 36-0 in the first week of the season and 32-8 in the state finals.
Senior defensive lineman, Jamarcus Williams broke the game wide open for the Patriots, scoring two defensive touchdowns on consecutive drives in the 3rd quarter. Williams scored off an interception returned 18 yards for a touchdown and then he forced a fumble that he recovered for a 5-yard fumble recovery. His consecutive scores doubled the Linden lead in a matter of seconds. Williams was named game MVP thanks to his two scores, five tackles, and three sacks.
"That was the turning point in the game, Pickens County, give all the credit to Pickens County. Coach Williams had a great defensive plan, taking away our stretch that we were able to do all year... to create turnovers, especially in the second half, that kind of pushed us with more momentum going forward," said Linden head coach Travis Lockett.
Senior quarterback Joshua Williams chipped in offensively as he was perfect throwing the football. Williams completed all four of his passes for 90 yards an a touchdown, he also contributed on the ground with a short rushing touchdown. Savion McIntosh was on the receiving end of the 35-yard touchdown pass.
Linden senior running back Zelly Aldridge carried the ball for the Patriots 11 times for 47 yards and a touchdown.
Pickens County scored on its first possession but was then shut down the remainder of the game. Quarterback Javion Belle was harrassed all evening by the Patriot pass rush which prevented the Tornadoes from staying in the contest. Belle threw for 151 yards with one touchdown pass to KJ Byrd. Byrd was the lone bright spot for the Tornadoes offense, he hauled in eight receptions for 121 yards along with the only Pickens County touchdown and two interceptions.
The Linden defense held Pickens County to 121 yards of total offense and forced the Tornadoes into long yardage situations all evening. Pickens County totaled negative 30 yards rushing when factoring in sack yardage. Senior Tyrik Daniels had seven tackles, 3.5 sacks and 3.5 tackles for loss for the Patriots to lead the defensive effort.
The Linden Patriots complete its perfect season with a strong defensive effort and win the schools first AHSAA State Championship.
Enter your number to get our free mobile app
Top Recruits in the State of Alabama