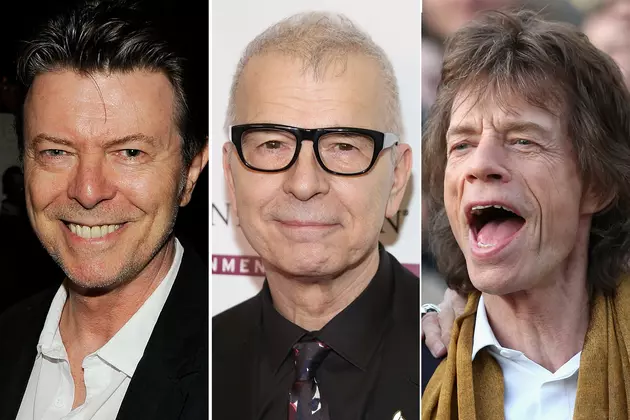 How Mick Jagger 'Sabotaged' David Bowie's 'Lodger' Session
Larry Busacca / Manny Carabel /Chris Jackson, Getty images
Longtime David Bowie producer Tony Visconti recalled how Rolling Stones frontman Mick Jagger crashed a recording session for Bowie's 1979 album Lodger, and light-heartedly attempted to sabotage the work in progress. Visconti was speaking to journalist Jeff Slate during an event to honor the David Bowie Is exhibition that's currently taking place at the Brooklyn Museum in New York City.
Billboard reported that the producer remembered that the environment had been "stuffy and hot," adding: "I've got so many pictures of Brian Eno topless." He continued that Jagger had arrived during the mixing process and began offering unwanted criticisms. "Mick continued to put it down – 'Oh that drum, oh that fill isn't any good.'" When asked to keep his thoughts to himself, Jagger replied: "Well, okay, I guess I'll do down the road and sabotage Joni Mitchell's album."
Visconti also recalled Bowie's determination to keep his personal life out of the spotlight during the last years of his life. "I was one of the few people who, when articles came up, he would say, 'Tony, you do this, but keep it to the music,'" he said. One one occasion when he told a writer that the pair had watched a "funny video" over lunch, Bowie reacted badly, telling VIsconti: "That is private."
Elsewhere in the conversation, he told how the RCA record label had asked Bowie to make a Young Americans 2 following the success of the 1975 album, but that the artist had already lost interest in the musical style. "He just cast it aside. He wasn't interested in the style of 'Fame,'" Visconti said.
Every David Bowie Single Ranked