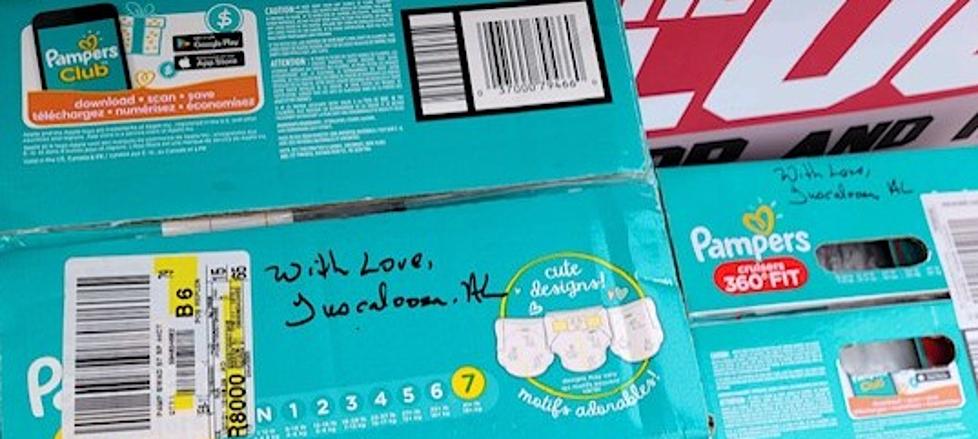 Northport And Tuscaloosa Send Love And Supplies To Kentucky Tornado Victims
Photo: Mary K./Townsquare Media
THANK YOU TO THE PEOPLE OF NORTHPORT & TUSCALOOSA.
A wonderful group of folks from SWJ Technology in Tuscaloosa wrote a great message on some packages of diapers heading to Kentucky.
Five FULL trailers of water, hygiene products, food, blankets and, perhaps the best of all, Christmas gifts.
Northport Mayor Bobby Herndon quickly sprung into action upon seeing the news coverage videos and photos of the buildings that were leveled in Kentucky.
He contacted us, Townsquare Media of Tuscaloosa, with eight radio stations and The Tuscaloosa Thread, inviting us to get involved.
So many of you heard about the relief drive and came out with cars, trucks and suv's loaded up with products and presents in Kentucky.
Amazingly, Mayor Herndon spoke with one of the people in Kentucky directing our goods to a church in Clinton, Kentucky.
In a twist, some of the folks at the church had driven HERE in 2011 to help US during the aftermath of destruction from the tornado that struck Tuscaloosa.
Those people never imagined that ten years later, we would be coming to help them.
How incredible is that? What a lesson for all of us here at Christmastime.
Here's another update video we recorded on Friday afternoon during the last few hours of the relief effort.
Another update from Northport Mayor Bobby Herndon after arriving in Kentucky yesterday afternoon.
This was such a wonderful moment for all of us living in Northport, Tuscaloosa and other cities in the region. Thank you all for giving so generously.
You never know how this will come back and be repaid five or ten years from today.
Alabama Lovers: Check Out These 15 Dazzlingly FREE Phone Wallpapers
Let "Alabama the Beautiful" spruce up your phone with these 15 free wallpapers. Save one, or save them all: you can't go wrong!
To save the photo(s) on mobile, just long-press on an image to bring up the menu to save it to your camera roll. If on desktop, simply right-click on a photo to save it to your computer.
Downright Unbelievable Quirky Alabama Town Names
Have You Heard of these Quirky Alabama Towns? Some are Downright Unbelievable.
10 Most Dangerous Animals in Alabama
The state of Alabama is known for many things, such as college football and southern hospitality, but it is also home to some not-so-friendly critters. This is a list of some of the most dangerous animals in random order.