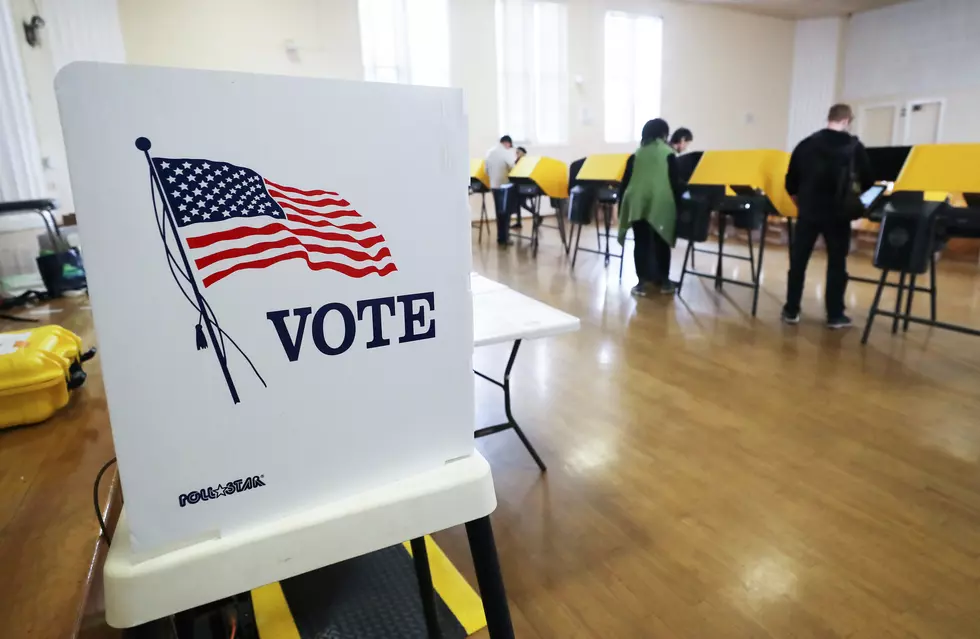 Northport Elections Are Today – Here's Everything You Need to Know
(Photo by Mario Tama/Getty Images)
The 2020 Northport municipal elections are happening Today -- here's what you need to know about the candidates, and where you can go to vote:
Mayor:

Bobby Herndon

Northport's former mayor from 2008 to 2016, Herndon says "A Heart for Northport" campaign centers on to continuing what he started in what he calls the most successful administration in city history: making progress on establishing a city school system, and continued recruitment of new restaurants and retailers.

Dale Phillips

Retired Tuscaloosa County Sheriff's deputy, and long-time member of Northport's planning and zoning commission, Phillips is running on a platform intended to overhaul area infrastructure, assist the Tuscaloosa County School System where possible and introduce new-to-market business offerings while still supporting existing local business.

Shawn Blackburn

Currently serving as the city of Northport's IT Technician for Public Safety, Blackburn says he is not running against Phillips or Herndon, rather he's "running for the city of Northport." Under his leadership, he says things will "get done," and he will bring the city out of "wallowing in mediocrity."

District 1:

Christy Bobo

Bobo's platform focuses on improving the roadways that serve as gateways to the city and support of community services including fire, police, and emergency responders. She wants to encourage new businesses and support existing businesses in an effort to "move our city forward."

David Crawford

Crawford seeks to focus on improving communications within and without City Hall. He said he will be available to all citizens asking for help or offering suggestions, and that he will to improve infrastructure within the city including water runoff, sewer systems, street signs and more.

District 2:

Jay Logan

Incumbent council president and representative for District 2 since 2008, Logan seeks to continue his "5-Point Plan," reinvesting in small businesses and seeking out new businesses in low to moderate income neighborhoods. He also wants to invest in more programs centered on athletics, education and other extracurricular programs.

Woodrow Washington III

Retired Tuscaloosa Fire Captain and current owner of the iconic Archibald's and Woodrow's restaurants and catering services, his platform focuses on service. Washington said he will represent the people and relay messages from City Hall back to the community and vice versa.

District 3:

Billy Booth

Booth said his platform centers on making Northport self-sustaining and solving problems within the city by investing more into the city's infrastructure and institutions.

Franklin Chandler, Jr.

A perineal candidate, Chandler who has sought office many times before, including a failed mayoral race in Northport in 2016, a county commission seat and positions in the Alabama House of Representatives and Alabama Senate. Chandler is running to represent Northport's District 3, but did not participate last week's candidate forums.

Dr. John Hinton

District 3 incumbent Hinton is seeking reelection and said he wants to to oversee several development and redevelopment projects that will serve as city-wide economic boosts. He also seeks to allocate more funds to schools, parks and street maintenance.

District 4:

Dr. Ken Randolph

Randolph said he is a firm believer in developing a city school system separate from the Tuscaloosa County School System. Randolph has eight years behind him as a city councilman and 14 years in state government. His campaign slogan is "Forward-Thinking Progress."

Jamie Dykes

A lifelong resident of Tuscaloosa County, Dykes is passionate about Northport and the school systems. She hopes to build a stronger relationship between the municipal government and the schools, including investing in city employees and improving roads.

Michael Daugherty

Daugherty is a former Marine and family man and said as a councilman, he would focus on improving the school system in Northport. He intends to improve the city's communications with its constituents and improve infrastructure.

District 5:

Jeff Hogg

Incumbent councilman Jeff Hogg is the Council President Pro Tempore. He co-chairs the city's retail committee and has helped bring several new restaurants and retailers to the city. His re-election platform is built on a multifaceted approach to improving the city by taking bold steps to improve quality of life, including exploring the development of a waterpark and sports complex he pitched earlier in 2020.

Randy Fondren

A lifelong resident of Northport, Fondren hopes to unite the city by instituting teamwork among the council's five districts, mayor and city administrator and the city's police, fire and public works departments. He also wants to find new ways to support local businesses in the midst of the pandemic.
District 1: Northport Civic Center -- 3500 McFarland Blvd. Northport, AL 35476
District 2: New Zion Missionary Baptist Church -- 1317 Martin Luther King Jr. Blvd. Northport, AL 35476
District 3: Indian Lake Baptist Church -- 3815 Watermelon Road Northport, AL 35473
District 4: Northport Public Safety Facility Building -- 3721 26th Avenue Northport, AL 35473
District 5: Flatwoods Baptist Church -- 4520 70th Avenue Northport, AL 35473
For continued coverage on the election and results as they come in, stay to t he Tuscaloosa Thread.
Enter your number to get our free mobile app