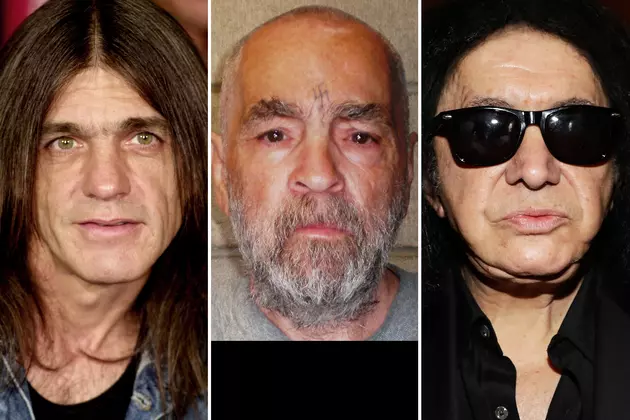 November's Biggest Classic Rock Stories: 2017 in Review
Newsmakers / California Department of Corrections and Rehabilitation / Isaac Brekken, Getty Images
November brought an end to a great era of rock music and also to a horrific chapter in musical history, while the continuing backlash against sexual misconduct reached the heights of the genre. Some light relief came in the form of a movie tie-in and a duet of giants that went viral.
AC/DC's Malcolm Young Dies
It was perhaps not the biggest shock, since Malcolm Young's serious illness had forced him to retire from AC/DC in 2014. But the confirmation of his death marked the end of an era in the rock world. Salutes came from Eddie Van Halen, David Coverdale, Paul Stanley, Slash and many others – but Malcolm's brother Angus Young, the band's only remaining original member, possibly said it best when he commented: "The bond we had was unique and very special. He leaves behind an enormous legacy that will live on forever. Malcolm, job well done." The image of Angus following Malcolm's coffin, carrying his late sibling's guitar, was one of the most poignant of the year.
Cult Leader Charles Manson Dies

He'd been in jail for 46 years by the time he passed away at the age of 83 – but failed musician Charles Manson had secured notoriety with his horrifying crimes in the '60s. Inspired greatly (and amazingly wrongly) by the music of the Beatles, he had close scrapes with the Beach Boys and Neil Young before his increasingly cult-like behavior forced an end to his music career. Soon afterwards he sent his "Manson family" followers to kill the occupants of a house, including actress Sharon Tate, in an attempt to incite a race war. He'd been ill for several months before his death was confirmed. Had he lived, he wouldn't have been eligible for parole again until 2027, by which time he'd have been 92.
Gene Simmons Given Lifetime Fox News Ban

Gene Simmons' larger-than-life attitude made him a perfect fit for the Fox News network - where he'd appeared many times until apparently receiving a lifetime ban in mid-November. In the fallout from the Hollywood sexual misconduct scandals centered on Harvey Weinstein and Kevin Spacey, the entertainment industry was on high alert for any bad behavior. Kiss star Simmons was accused of "bursting into a staff meeting, unbuttoning his shirt and yelling 'Hey chicks, sue me,' and whacking a pair of employees on the head with his book as some sort of intelligence test." He later told Ultimate Classic Rock in a statement: "While I believe that what is being reported is highly exaggerated and misleading, I am sincerely sorry that I unintentionally offended members of the Fox team during my visit." The incident led to further allegations of misconduct against Simmons.
Led Zeppelin Track Used to Sell 'Thor: Ragnarok' to Producers

When the Led Zeppelin classic "Immigrant Song" was used in the soundtrack for Thor: Ragnarok, it was the completion of a circle that started before the movie even had a plot. Director Taiki Waititi had used the track to support the "sizzle reel" while applying to make the film, and it helped secure him the role – even though the producers didn't recognize "one of the most famous songs of all time." Waititi later revealed that he only got permission to use the recording at the last minute. Its use inspired Jack Black to poke fun at Waititi, accusing him of having stolen the idea of using "Immigrant Song" from his own film, School of Rock. It's not known whether the 1970 track is one of those hated by Robert Plant for his self-described "horrific" singing.
Guns N' Roses and Dave Grohl Duet Tops Facebook Video Chart

As one of the year's most successful tours wound down, Guns N' Roses invited Foo Fighters frontman Dave Grohl to guest on a performance of "Paradise City" in Tulsa, Oklahoma. Grohl "just happened to be in the neighborhood," singer Axl Rose told the crowd before commencing the song. (The Foo Fighters were performing at the same venue the next night.) The resulting video posted on GnR's Facebook page quickly became the most-watched live clip on the social media site for the month of November. With Muse and Bon Jovi in second and third places, it was another piece of warming news for those who fear that rock has had its day.