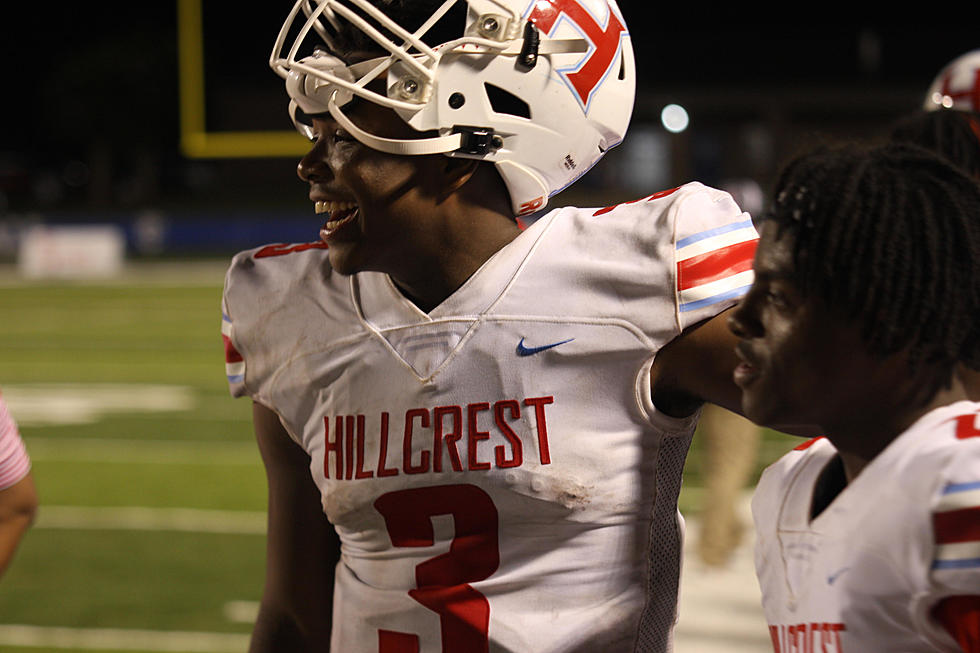 Patriots Spoil the Party in T-County
J.R. Moore | Tide 100.9
Wildcat Stadium welcomed a packed house for one of West Alabama's strongest high school football rivalries for the first time Friday night. Junior quarterback Ethan Crawford and the Hillcrest Patriots spoiled the Tuscaloosa County Wildcats' house warming party, as the boys down Highway 69 gift-wrapped a 35-10 beating en route to an 8th-straight win in the series.
"Being a big rivalry, we just tried to stay humble. We don't want to just assume we can just beat somebody because we've always beaten them," Crawford said after the game. "We prepared very good, and we bounced back after our loss to Homewood. We came back, had a good week of practice, and we prepared really good for the game and we just took it out like another game."
The sensational junior quarterback threw for 196 yards, completing 8 of 18 passes, pitching two touchdowns to Derek Hall (three receptions, 91 yards.) He added two more scores on the ground, rushing for 84 yards on eight carries.
"I'm glad that guy's on my team," first-year Hillcrest head coach Jamie Mitchell said of Crawford after the game. "He's a special player. A lot of people don't understand, he's still learning our system. He's got a lot of growth to come. It's scary to think of how good he can be and will be. He's a great kid to coach."
Though the Wildcats took an early 3-0 lead, Crawford leaned into the game by exploding on a 41-yard rushing touchdown untouched up the middle of the Wildcat defense. He followed it up with a 50/50 ball to his 6'2" senior receiver, Hall, who snatched the ball away from Jayden Starkley, broke his tackle at the 20-yard line and trotted into the endzone.
The Wildcats responded with its lone touchdown of the night as junior TCHS quarterback Brax Garrison found his running back Kevin Riley down the seam of the Patriots defense for a 67-yard touchdown.
Garrison completed half of his 16 pass attempts for 151 yards, including his touchdown to Riley and a 4th quarter interception by Collin Dunn of the Patriots. Garrison was sacked four times on the night and scrambled often to avoid the pressure of a stiff Hillcrest pass rush.
"That guy's a warrior," first-year T-County head coach Adam Winegarden said of his quarterback post-game. Garrison suffered a right-knee injury in the second quarter while being hit on a 3rd-down conversion pass attempt. He returned to play the remainder of the game.
"I mean that guy is tough. He is so tough. He gutted out the whole game. He's a winner. I'm proud of him, he's only going to get better and better. That's the kind of toughness we need."
Garrison said his knee will "be fine" after the game. The 6'4"-215lb signal-caller credited the versatile defensive scheme of the Patriots.
"They really just made a lot of plays, you know," Garrison said. "I think there were some plays we should have made, I should have made some better throws. I could have done a lot more. I think we didn't execute as well, but that happens. They made good adjustments in the second half."
Tuscaloosa County (1-1) hosts Region 3 7A juggernaut Thompson, who's outscored its first two opponents 110-0, next week.
As for the Patriots, Hillcrest (1-1) will travel for a Region 4 6A matchup with Brookwood.
Tuscaloosa's High School Football Programs
Here are some of the high school football programs located in or around the Druid City!
Alabama Tight Ends and Defensive Backs at Fall Practice
Alabama held its fall practice on Thursday. Tight ends and defensive backs practiced hard yesterday as the season opener approaches. Alabama will face Miami in Atlanta for the season opener on Sept. 4.
Photos from Alabama's Fall Practice on Monday, Aug. 16
The Alabama Crimson Tide took to the practice field on Monday to prepare for their season opener against No. 14 Miami in Atlanta.