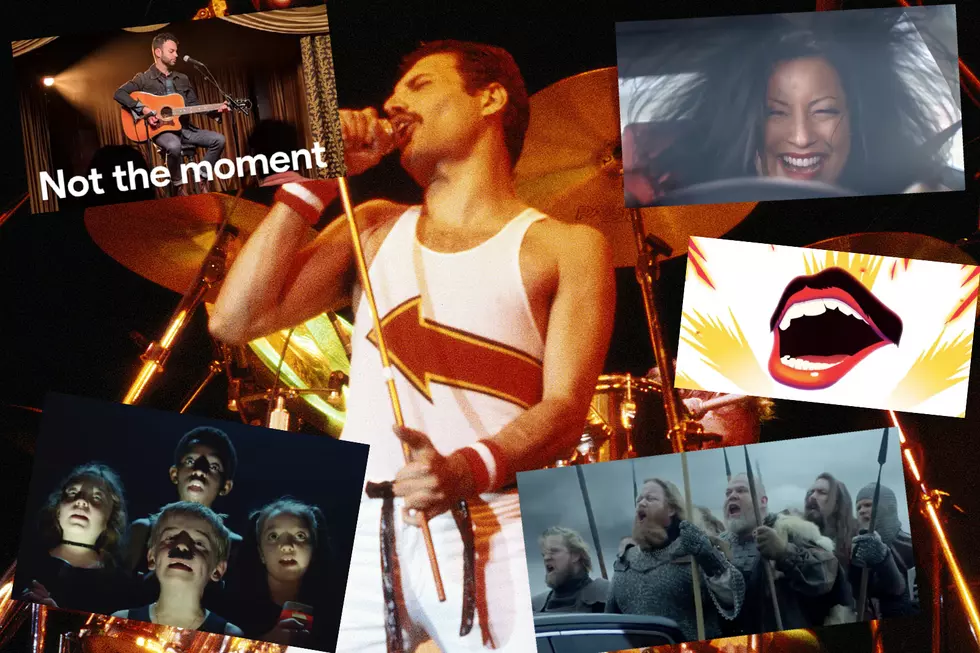 Queen Sells: Why You Hear So Much Freddie Mercury Music in Ads
Getty Images / Google Pixel / Amazon Music / John Lewis + Partners / Dodge / Toyota
Queen has been heard in commercials across the world for decades. From hotels, cars and beer to chocolate, hair color and gum, tracks as wide apart as "Tie Your Mother Down" and "We Are the Champions" have been attached to advertising campaigns from the U.S. to Europe.
In recent weeks, the "Flash" theme has been harnessed to help sell the Google Pixel 3's light-sensing abilities. In August, "Somebody to Love" promoted Amazon Music under the slogan "A voice is all you need." John Lewis, a U.K. store chain, built a message about their human resources priorities around "Bohemian Rhapsody." The Dodge Ram Super Bowl commercial was driven by the fast, live version of "We Will Rock You," as sung by Vikings, while Toyota used "Don't Stop Me Now" last year to advertise their Camry model.
A fan-compiled list suggests "I Want It All" has been the most-used song over the years, in both original and cover versions, with "Crazy Little Thing Called Love," "Don't Stop Me Now" and "We Will Rock You" also very popular.
There's no doubt that the success of the Bohemian Rhapsody movie – the world's highest-grossing music biopic of all time, just a month after its release – has raised awareness among ad creators, who are always keen to build on established audience relationships to promote their wares. But licensing – or syncing – Queen music has been a common practice for years: In 2014, they were listed as the most synced artist in the U.K., for example.
But what is it about the band's music that keeps ad makers coming back? The strange thing is, Queen actually break what's considered to be a golden rule of tracking for commercials. Music supervisors, who suggest songs then secure the deal to use them, "don't want anything polarizing," supervisor Sarah Gavigan said in a 2017 interview. "This is why you don't often hear much pop music in ads," she argued. "Ads are all about telling a story in 30 seconds; very rarely is that time not quirky, funny or heart-tugging."
There's the answer: Queen's music is always quirky, and genre-busting enough to avoid being too polarizing. And of course, Freddie Mercury was all about telling stories, although not often in 30 seconds. Even people who aren't massive Queen fans know what classic tracks like "I Want to Break Free" and "Somebody to Love" are all about – or at least believe they do.
Another point is that the Queen organization make it easy to license the material. "First, the music has to be licensable," Gavigan said. "If you haven't done your homework, you shut the door before you have a chance." Rob Lowry, another supervisor, has pointed out the "pretty massive misconception that music supervision is all about knowing good or 'cool' music. That's only half of the battle. A lot of it ends up being, okay you like this song, that's great, now you have to negotiate the rights to it and figure out the fees and the paperwork. I'd say 30 to 40 percent is creative and then around 60 percent is administrative."
So, Queen make it easy. The next question is, why? Accusations that Brian May and Roger Taylor have sold out in the wake of Mercury's death are commonplace. It's true that the vast majority of commercial appearances have taken place since his passing, but it's also arguable that changes in the industry along with Queen's longevity have simply made them more attractive to ad makers: They know that general audiences have come to prefer '80s music along with the sales message.
There's another important point. The audience hadn't known about Queen's Live Aid appearance in 1985, but band members noticed that they knew exactly what to do at all Mercury's audience participation moments anyway. At that point, Brian May said they realized Queen had "broken through to something more than a rock audience – like a public consciousness." Once you've achieved that, why would you want to throw it away?
It's likely that the ad action is not all about money; it's a way of keeping their life's work alive and available to new, younger people. In industry terms, the fact that the music has maintained a high profile over the years could have contributed to Fox green-lighting the Bohemian Rhapsody biopic.
"If a musician is smart, they need to see past the money; they need to see a strategy," Gavigan added. "Is it the money, or the exposure? If you get that big placement, how will you get that message out to your fans? … A sync license is one of the largest platforms for distribution piece of music can get. Like radio, the power lies in the repetition; I may not like a song the first time, but after the hundredth time it's probably going to be in my head regardless."
The Best Song From Every Queen Album
You Think You Know Queen?