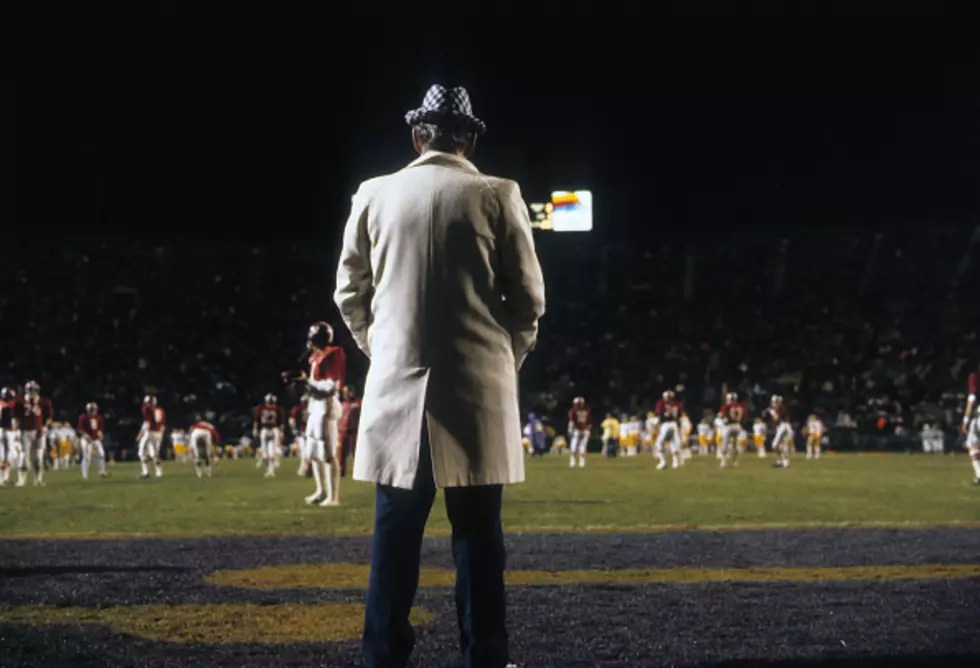 Remembering the "Bear's" Legacy, 38 Years Later
Sports Illustrated/Getty Images
When legendary Alabama coach Paul "Bear" Bryant was asked what he would do if he couldn't coach anymore, the Arkansas native responded,
"Probably croak in a week."
28 days after the 1982 football season ended and Bryant's tenure came to an end, the most famous man in the state passed away at the age of 69.
Enter your number to get our free mobile app
Today, January 26th, 38 years later, "Bear" Bryant is just as common of a household name as he was when he was winning national championships.
From academic and athletic buildings dotting Tuscaloosa to a road that goes through campus, it is impossible to walk anywhere in Tuscaloosa without remembering one of the greatest football coaches of all time.
Don't get it twisted though- this isn't Knute Rockne and Notre Dame or Bobby Bowden at Florida State. Not only did "Bear" Bryant instill a legacy of winning and success, but in a time where Alabama was viewed as one of the worst places in America, Coach Bryant transformed the narrative from uneducated farmers to one of hard work, class, and humbleness.
For Alabamians from Fairhope to Madison County and even those "Barners" in Lee County, "Bear Bryant" managed to give hope to Alabama- a state that in the middle of the 20th Century didn't have much hope- and transform it into a place that people wanted to live.
Coach Bryant was a trailblazer. He fought hard to integrate Alabama and allow black students to play on the football team. In addition, there are countless stories that paint Coach Bryant as a sweet, charitable man who was full of class.
On this 38th anniversary of Coach Bryant's death, it might be odd to not meticulously review the countless championships, victories, and awards that Bryant and his teams won, but I think his legacy off the field is vastly more important.
One might think that Nick Saban is the greatest college football coach of all time, and that would be easy to argue- his numerous national championships, winning percentage, and players that have been sent to the NFL speak for themselves.
If Paul "Bear" Bryant did not build the culture of winning and class in the Yellowhammer State that he did, then it is entirely possible that Nick Saban would have never even found the Crimson Tide.
Today, when you decide to honor the "Bear," remember to use the lessons he taught us and treat everyone that you come in contact with respect. For some of Coach Bryant's motivational quotes, you can find them here.
Rest in Peace, "Bear." We miss you every day.
"If you want to walk the heavenly streets of gold, you gotta know the password, 'Roll, Tide, Roll.'" - Paul "Bear" Bryant
Winningest Coaches For Each SEC Team