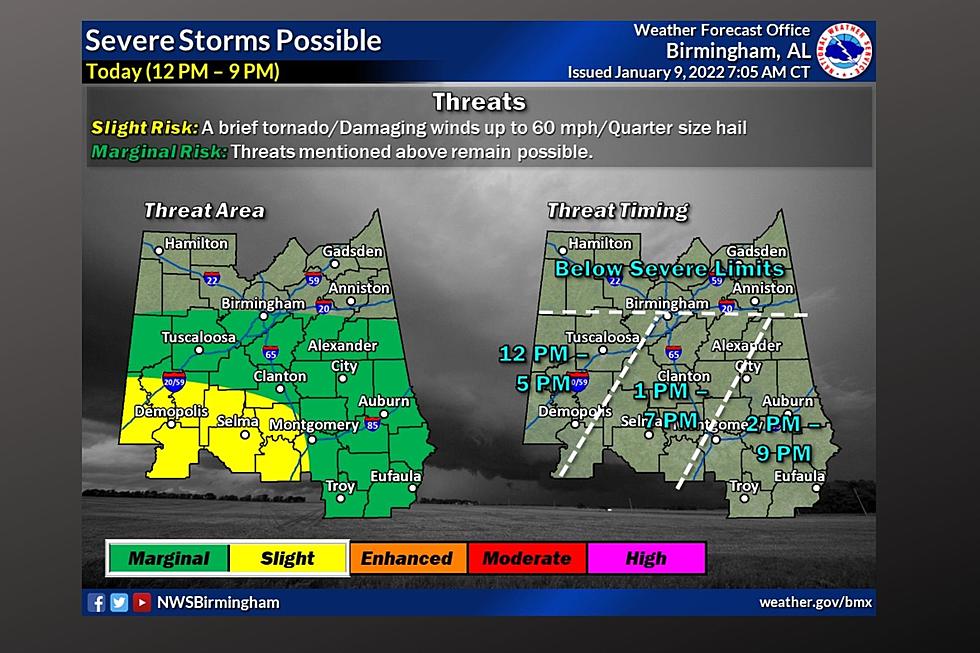 Sunday Storms Could Become Strong to Severe in Central Alabama
National Weather Service
The latest information from the National Weather Service in Birmingham has upgraded portions of our coverage area today, Sunday, January 9, 2022, from a "marginal risk" to a "slight risk." Ahead of the incoming cold front, there is the expectation for scattered thunderstorms where some could be strong to severe.
I strongly encourage you to check back on weather information often today. Also, now would be a great time to give your family and friends that don't stay up to date on weather information a heads up of the possible activity today.
MARGINAL RISK THREATS
A brief tornado
Damaging winds up to 60 mph
Quarter size hail
SLIGHT RISK THREATS
Threats from the marginal risk are possible
TIMELINE
Noon until 9 pm
AREA
Southern 2/3 of Central Alabama
The National Weather Service in Birmingham is encouraging everyone to stay weather aware. They said that "there is a lot of uncertainty today. The parameters are not alarmingly strong, but they are strong enough to produce severe weather and damage. AND the weather the first half of the day could impact the strength of the parameters by this afternoon."
During severe weather scenarios, Townsquare Media radio stations will bring you updates for all types of severe weather. Also, we will host wall-to-wall cover during a Tornado Warning to give you the information you need to keep safe and informed.
Townsquare Media Radio Stations
Praise 93.3, 92.9 WTUG, 95.3 The Bear, Nick 97.5, Catfish 100.1, Tide, 100.9, ALT 101.7, and 105.1 The Block.
James Spann, ABC 33/40, and Townsquare Media Tuscaloosa Chief Meteorologist notes that we have a wet day ahead of us and "there is a low end, "marginal risk" (level 1/5) of severe thunderstorms for about the southern 2/3 of Alabama today. SPC has also defined a "slight risk" (level 2/5) for parts of West and Southwest Alabama. Heavier storms could produce strong wind gusts… an isolated, brief tornado is possible as well. Rain amounts could exceed one inch in spots over the northern half of the state."
Townsquare Media Coverage Areas
Bibb
Fayette
Greene
Hale
Lamar
Perry
Pickens
Sumter
Tuscaloosa
Walker
(Source) Click here to follow the Facebook Page for James Spann. For more from the National Weather Service Birmingham, click here.
KEEP READING: Get answers to 51 of the most frequently asked weather questions...
Ways to Receive Severe Weather Information
Severe Weather Terminology You Should Know
TIPS: Here's how you can prepare for power outages
KEEP READING: What to do after a tornado strikes