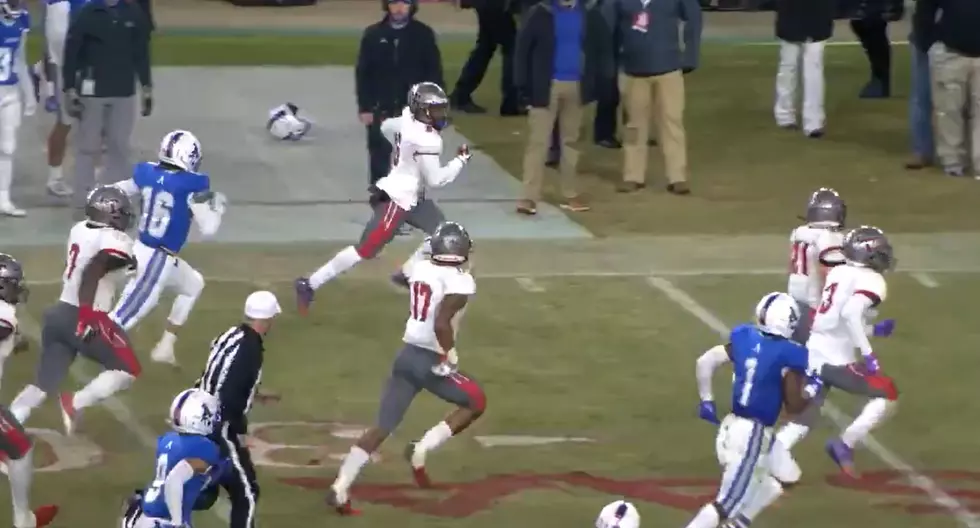 Thompson Completes Comeback to Win 7A State Championship
Joe Gaither
In 18 seconds the Thompson Warriors (14-0) scored 10 points to salvage a perfect season and win the AHSAA Class 7A State Championship over the Auburn Tigers (12-2) 29-28.
The Warriors receiver Korbyn Williams blocked an Auburn punt and returned it for a score to cut the Auburn lead to just two points with 18 seconds remaining in the game. Thompson subsequently recovered an onside kick and was able to get in position for a game-winning field goal. Trevor Hardy then lined up and made the Warriors back-to-back state champions. Thompson was aided on game-winning drives by two pass interference penalties against the Auburn defense.
"Right now, I'm basically speechless. The way that things turned in the end and the way that it happened, its unbelievable." said Thompson head coach Mark Freeman.
Thompson lost its starting quarterback, Conner Harrell at halftime with a shoulder injury at halftime and replacing him was a challenge on the Warrior offense. Thompson went with Tre Roberson to replace Harrell and led the Warriors on an improbable comeback.
Harrell was 9-for-14 passing for 164 yards and two touchdowns before going down with injury. Roberson was 11-for-18 passing for 84 yards. The Warriors were also helped offensively by receiver Ryan Peppins, he caught 10 passes for 95 yards and one touchdown, Peppins also had a 6-yard rushing touchdown on a jet sweep.
"Tre is our most versatile player, if I need something done I go to Tre Roberson. He can play tight end, he can play H-back, he can play receiver," said Freeman. "He's smart and I felt the way they were blitzing us tonight, with the pressure, Tre would handle that better than anybody else we could put in that spot and like he always does he came through."
Also contributing to the Thompson comeback was 5-star junior defensive lineman Jeremiah Alexander. Alexander had a crucial forced fumble and recovery that set up the Warriors last offensive touchdown and sparked the comeback.
Auburn controlled the line of scrimmage most of the game and outrushed the Warriors 170 yards to 58. Senior Quarterback Matthew Caldwell gave the Tigers his best effort passing for 88 yards and two touchdowns and rushing for 85 yards and a touchdown.
The Tigers got after the Thompson quarterbacks all evening long creating pressure and forcing Thompson quarterbacks into quick decisions. Junior defensive lineman Powell Gordon accumulated seven tackles and two sacks, senior linebacker Joey McGinty contributed to 6.5 tackles and two sacks as well.
Thompson finished the evening as back-to-back champions and winning two of the last three titles in Class 7A , winning tonight in the most improbable fashion.
Enter your number to get our free mobile app
Top Recruits in the State of Alabama