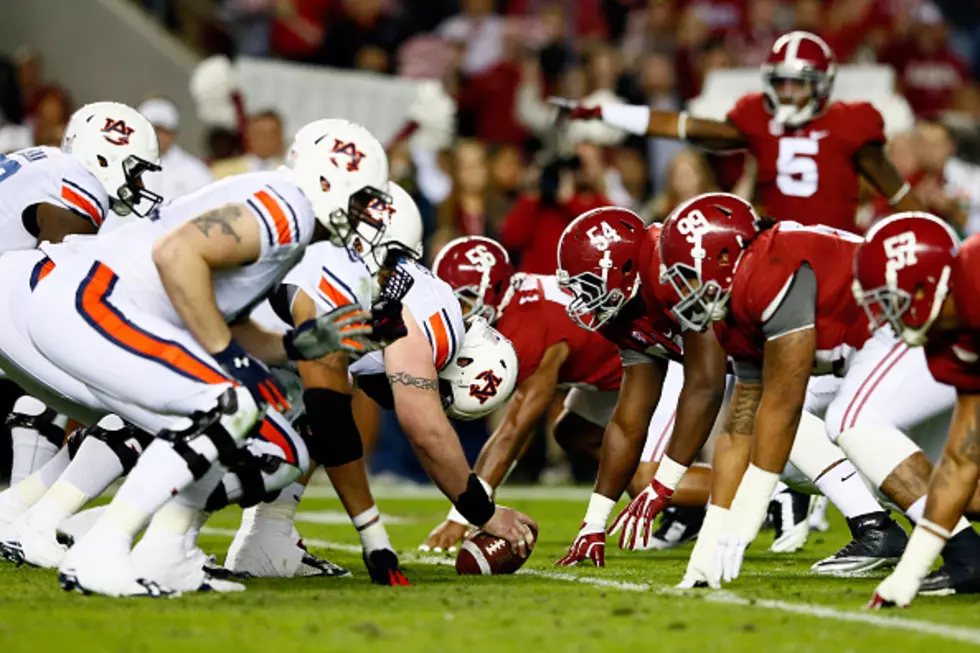 Tuscaloosa, Alabama Mayor Walt Maddox Receives Winnings From Iron Bowl Bet With Auburn Mayor
Getty Images
Tuscaloosa, Alabama Mayor Walt Maddox Receives Winnings From Iron Bowl Bet With Auburn Mayor
The 2021 Iron Bowl will go down as one of the greatest in history. The Alabama Crimson Tide spent most of the game down but ended up taking the game into not one, but four overtimes. After fighting back through a tough game, the Crimson Tide came out victorious 24-22.
Every year since 2005 Tuscaloosa Mayor Walt Maddox has participated in a wager over the Iron Bowl with the Mayor of Auburn. Of course, the Alabama Crimson Tide has had the most wins since the start of the tradition.
This year, the wager was simple, if Alabama wins, Auburn Mayor Ron Anders has to donate $100 to the Tuscaloosa Pre-K Initiative. If Auburn wins, Mayor Maddox has to donate $100 to the Boys & Girls Clubs of Greater Lee County.
With the Crimson Tide pulling off the victory, it was time for Auburn Mayor Anders to pay up.
"Here is your victory bounty," read a note sent to Mayor Walt Maddox. "Congrats, what a game!" This was the note Mayor Maddox received along with a check for $100 from Auburn Mayor Anders.
Maddox posted on his Facebook page, "What a game is right! Thank you to Auburn Mayor Ron Anders for being a great sport and making a donation to the Tuscaloosa Pre-K Initiative, per our friendly wager. "
It's great that friendly wagers like this can take place with a game that holds such high emotions and history.
All Homicides in Tuscaloosa County in 2021
Top Stories From The Tuscaloosa Thread (12/06-12/10)
Tuscaloosa Unity Fest 2021
The city of Tuscaloosa hosted its first Unity Fest Thursday night, inviting the community to the recently renovated McDonald Hughes Community Center to celebrate the things that bring us together as neighbors.