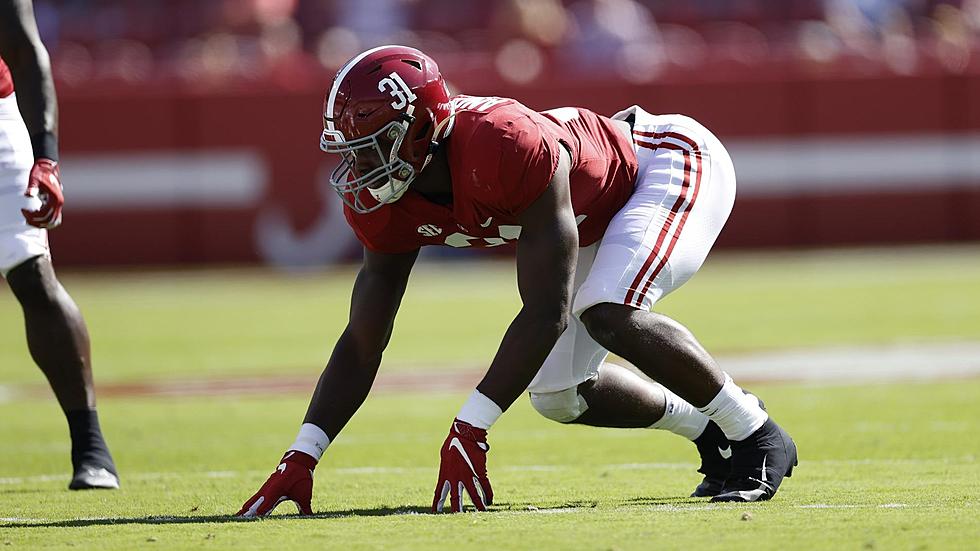 WTUG Takes a Swing at Alabama's "Terminator's" '90s R&B Playlist
Alabama Athletics
The Alabama Crimson Tide sports a fierce pass rush defensively. The edge is secured by one of the most violent and intimidating players in the country. As a freshman, he was dubbed "The Terminator" because his motor never quits and he always leaves a path of destruction over opposing offenses.
Who'd think that guy, that intense player, uses a calm music genre to prepare for the highest level of competition in college football?
The guy that led the SEC in quarterback pressures, was third in the SEC in sacks and was third in the SEC for tackles for loss prepared to face the best tackles in the conference with the smooth beats of '90s R&B.
That's because the young man who wears No. 31 on Saturdays in the Fall for Alabama isn't the same guy that glows a wide smile away from the field and during press conferences.
"People always say that," Anderson said. "They always say, 'you're so different on and off the field.' When I get on the field I have to switch it. Like I don't want to go out there and get embarrassed by anybody."
Anderson doesn't get embarrassed much. He tends to do the embarrassing.
But what songs flip that switch in Alabama's best player? What turns a nice Georgia boy into the SEC's most terrifying pass rusher?
Seeing as our sister station know's a thing or two about R&B, we thought we'd get their thoughts on how Will Anderson becomes "The Terminator."
Hey, it's your girl Mary K from 92.9 WTUG, and honestly, it doesn't surprise me at all that Will Anderson, Jr., from the Alabama Crimson Tide, plays 90's R&B music to get ready for the game. In my opinion, the '90s was the best decade for music, hands down.
Anderson, who always has a smile on his face with a positive attitude, was talking with the media, and the discussion led to how he flips into game mode. Anderson said that he flips on "90s R&B. You know, something calm, cool and collected. I'll just listen to a little 90s; you know what I'm saying. Just gets me in my mood, just mellow me out and chill."
It's hard to wrap your mind around it. Someone that wasn't even born in the 90s using the decade to get inspired for the big game. I promise you this, the music from the 90s won't die. It just gets stronger.
Here are some songs that we think Will Anderson Jr. should add to his playlist, or better yet, he should just listen live on the free WTUG app.
Crimson Tide Will Anderson Jr. 90s Playlist
Here are some songs that we think Alabama Crimson Tide player Will Anderson Jr. should add to his playlist, or better yet, he should just listen live on the free WTUG app.
90s Classic Hip Hop Joints
The Alabama Crimson Tide 2021 Defense
The Alabama Crimson Tide led the SEC in scoring defense in 2020 holding opponents to 19.4 points per game. The Tide is expected to be even stronger on defense this fall, returning several starters from last year and an impactful transfer.
Alabama Crimson Tide All-Time Sacks Leaderboard