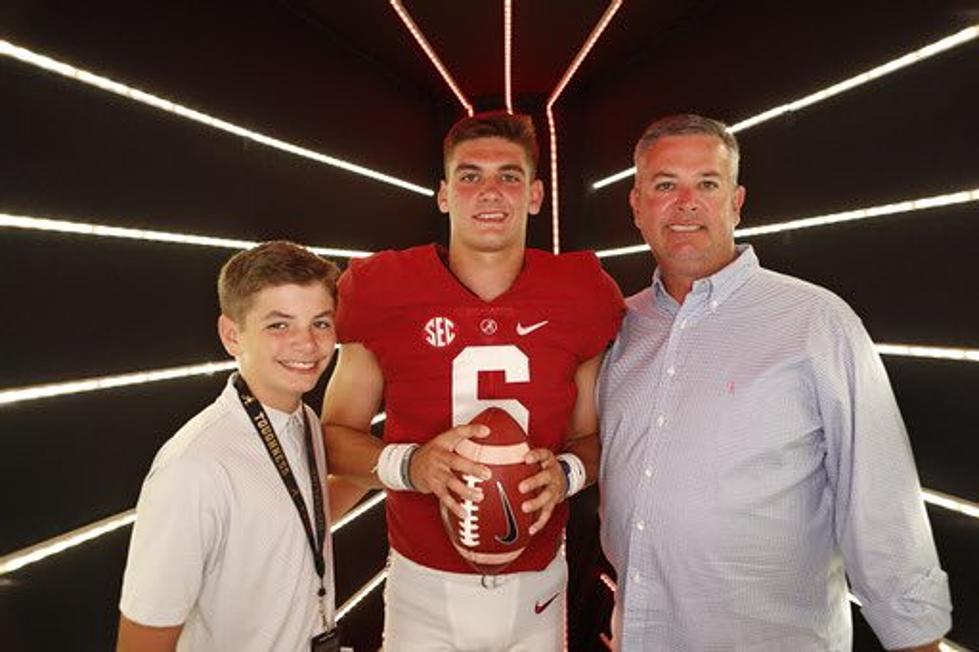 Alabama QB Commit Ty Simpson Dominates First Half of Senior Season
Photo Courtesy of @ty_simpson06 on Twitter
The No. 1 Alabama Crimson Tide is undefeated through the first three weeks of the 2021 season and things are riding high in Tuscaloosa. The Crimson Tide currently boasts the No. 6 ranked 2022 recruiting class headlined by 4-star quarterback Ty Simpson. 
Simpson, the No. 2 recruit in the state of Tennessee, shared highlights through the first five games of his senior season. The quarterback has led the Westview Chargers to a 4-1 overall record with a 2-0 region record in Class 2A Region 7. The Chargers are currently ranked the No. 4 team in Class 2A.
In the 9:30 minute highlight video, fans can watch Simpson throw 17 touchdown passes with six rushing touchdowns in just five games of action. Westview has scored 207 points in five games and has beaten the No. 9 team in Class 1A and the No. 6 team in Class 3A.
The Chargers could be undefeated but fell in a tight contest to the No. 1 team in 1A, Peabody, 31-29. The Golden Tide kicked an 18-yard field goal as time expired to extend its winning streak to 39 games in a row.
Simpson's arm talent can easily be seen in these highlights as he routinely executes off-platform throws and throws with odd arm angles to decimate defenses. His athleticism is also apparent in the highlight tape, he can be seen eluding and evading defenders in the pocket and shows agility and acceleration in the open field.
Simpson has been compared to Brett Favre, Patrick Mahomes and Steve Young and after watching the first half of his senior season's highlights it is easy to see those comparisons.
The Crimson Tide has had extraordinary success at the quarterback position in recent years. Alabama has put its most recent three signal callers into the NFL as high draft picks and Bryce Young's early success appears to keep the trend going.
Alabama vs. Florida - Week 3 2021
Alabama took down Florida 31-29 in the SEC season opener for both schools.
Alabama vs. Mercer - Week 2 2021
The Alabama Crimson Tide hosted the Mercer Bears and won 48-14 in the home opener of the 2021 season. Alabama was in control from start to finish with Jase McClellan impressing the crowd scoring in three different ways.
The Anti- Alabama Team
Alabama has lost 23 games while Nick Saban has been in charge. These athletes were pivotal in helping to secure a rare victory for their teams.