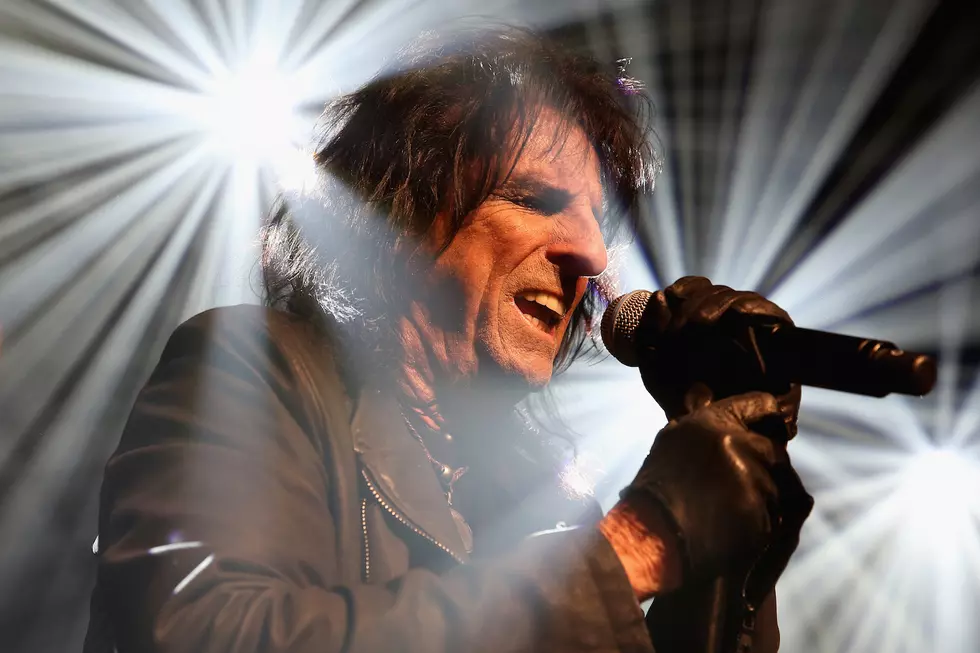 Alice Cooper Recalls Nearly Dying From Hanging Stunt Gone Wrong
Tasos Katopodis, Getty Images
Always change your piano wire. That's a lesson Alice Cooper had to learn the hard way, but is fortunate to have even been able to learn from his mistake after a 1988 mishap nearly left him for dead.
The legend recalled a stunt gone wrong when speaking with Entertainment Weekly. When the band was rehearsing at Wembley Stadium, they ran through the usual gamut, which included the death by hanging bit where Alice would dangle from a noose, much to the thrill of the soon-to-be live audience. He tied it in to the innate sense of danger that comes with circus performances like someone walking on a tight rope or locked in a cage with a dozen tigers. "You know that there may be a second you witness a tragedy," said Alice, adding, "I always wanted that in our show: what they're seeing could be the last night of Alice Cooper."
It almost was the last night of Alice Cooper. Suspended from the rafters while wearing a harness rigged with piano wire, the singer ran through the hanging stunt where the noose would sit just above his neck, but that window of comfort was not afforded during this rehearsal. He never thought about regularly swapping out the piano wire and on that night it snapped. "I could hear the rope hit my chin and in an instant I flipped my head back. That must've been a fraction of a second because if it caught my chin it would have been a different result. It went over my neck and gave me a pretty good burn. I went down to the floor and pretty much blacked out," Alice recalled.
Now, 30 years removed from the almost fatal incident, Alice Cooper still performs the routine with regularity, and, at 70 years old, is still as committed to the road as ever. He recently wrapped up a month-long North American tour and has another headlining trek on the continent booked for the summer. Not one to take much time off, Alice also has an upcoming international run slated with Hollywood Vampires.
Where Does Alice Cooper Rank Among the Top 50 Live Acts in Hard Rock + Metal?
10 Unforgettable Alice Cooper Moments