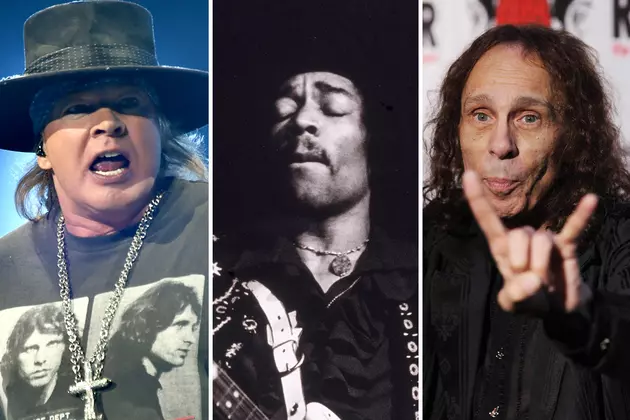 Guns N' Roses, Jimi Hendrix, Dio Among Black Friday Exclusive Offerings
Mike Coppola / Hulton Archive / Frazer Harrison, Getty Images
Organizers published a list of 158 records that will be on sale for a limited time, which featured exclusive titles. You can see some of them below.
Anthrax – Kings Among Scotland 3LP
Cheap Trick – The Epic Archive Vol. 2 (1980-1983) 2LP
Alice Cooper – Live From The Astroturf Full Performance LP
Dio – "Holy Diver Live at 35" 12-inch vinyl
Guns N' Roses – "Shadow of Your Love" 7-inch vinyl
Iggy & The Stooges – Rare Power LP
Joan Jett – Bad Reputation (Music From the Original Motion Picture) LP
The Jimi Hendrix Experience – Burning of the Midnight Lamp Mono EP 7-inch vinyl
Rage Against the Machine – Live & Rare 2LP
Keith Richards – "Run Rudolph Run (40th Anniversary)" 12-inch vinyl
Weezer – "Africa" 10-inch shaped picture disc vinyl
"We work year-round to shine a light on the independent businesses in your local community that sell you records and other things that make you happy, make you smile, make you sing, bring you comfort, bring people together," RSD said in a statement. "Everything you find at a record store would be a great gift for someone, so being part of that holiday shopping season, and the biggest shopping day of the year makes sense to us.
"So we work with labels, artists, managers and distribution companies who feel the same, and put together a list of titles for that season that are available at participating record stores. They come out on Black Friday but may be available at record stores throughout the rest of the year, because record stores are the best place to go with a Holiday Wish List."
Along with exclusives, which are made available at independent record stores only, RSD First titles can later be found on sale at other retailers, while short run and regional titles, usually limited to less than 1,000 copies, can be found in specific locations.