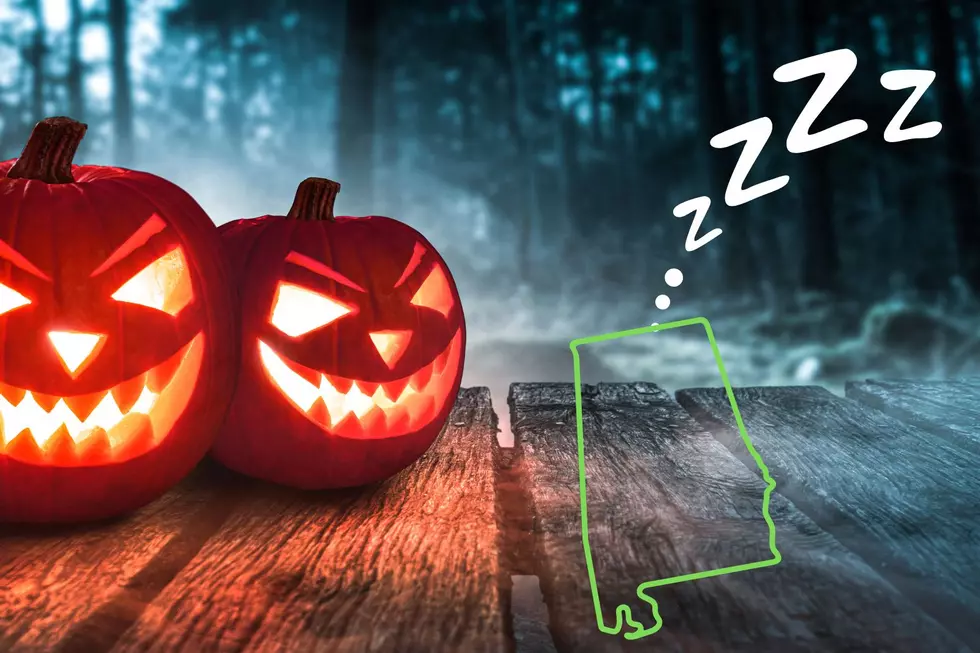 EEK! This is The Most Common Nightmare For People In Alabama
Canva
Spooky season is here and nightmares may be at an all-time high this time of year.
People are tapping into their fears, pulling off more pranks, and even watching lots of scary content like movies and shows.
Potential Nightmare-Causing Pranks
This time of year pranks seems to increase. The kind of pranks are ones that tap into someone's fear like creepy insects, violent or scary movie characters and more.
Could you imagine walking out on your porch and running into this giant spider?
Sometimes it doesn't take a huge bug or insect to give someone nightmares. Maybe it just takes seeing a small one in the most unexpected place.
What if your most feared movie character showed up inside your home?
That's guaranteed to stir up some sleep troubles.
Most Common Nightmares In America
Mattress Advisor recently conducted a study to determine the most common nightmares across America.
After surveying 1,500 Americans, they found that the most common nightmares in America were:
Being Chased
Falling
Missing Important Events
Teeth Falling Out
Loved One Dying
Most Common Nightmares In Alabama
You know we had to find out what Alabamians were most afraid of right?!
After polling 1,500 Americans, the Mattress Advisor study came up with not only the most common nightmare in America but also found the most common nightmares in each state.
Georgia and Tennessee's most common nightmare surprisingly wasn't losing to Alabama.
Tennessee's most common nightmare was about monsters, and Georgia's most common nightmare was falling.
The Yellowhammer state's most common nightmare was missing an important event.
Seems like we're pretty responsible and considerate of others if that's what we fear the most.
If you want to see the full results of this study on Mattress Advisor, click here. 
SEC Coaches as Halloween Candy
Everyone in the South has strong opinions on football coaches and Halloween candy. Why not pair the two together?
Best Pumpkin Patches Near Tuscaloosa 2022
Top Stories from the Tuscaloosa Thread (10/10 - 10/17)
13 of the Top Stories published by the Tuscaloosa Thread during the week of October 10th, 2022.