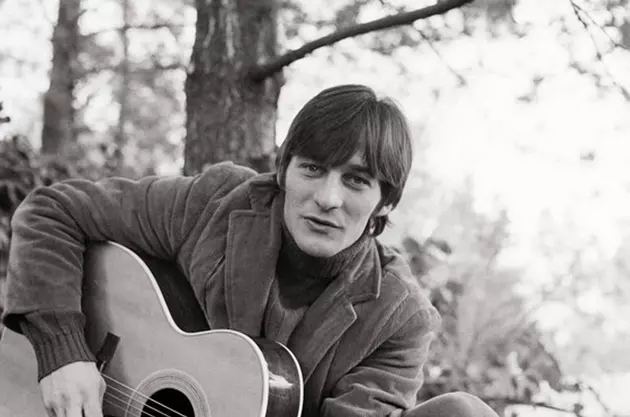 Previously Unreleased LP From Byrds Member Gene Clark on the Way
Omnivore Recordings
A collection of unheard songs by Gene Clark, a founding member of the Byrds and a key songwriter on the band's first few albums, will be released this summer.
The new set, titled Gene Clark Sings for You, will gather more than a dozen previously unreleased tracks by the singer-songwriter, who left the Byrds in 1966 and launched a solo career that yielded a handful of albums in the '70s and '80s (including the country-rock classic No Other in 1974), as well as records with various other groups. He died in 1991 at age 46 after years of substance abuse.
At the same time, the self-titled album by the band the Rose Garden -- which included contributions by Clark -- will be reissued with 16 bonus tracks, including single versions, rehearsal tracks and live cuts.
Both albums are due on June 15. You can watch a trailer for the records below.
"For longtime Gene Clark fans and aficionados, the tracks on this remarkable archival CD are the stuff of legend," writes John Einarson in the liner notes to the Clark album. "Since word first spread in the 1980s about the discovery of these 1967 recordings on a rare acetate in Liberty Records' vaults, fans have come to regard Gene Clark Sings for You as nothing less than the Holy Grail of the singer-songwriter's extraordinary body of work. Shrouded in mystery and the subject of much speculation and conjecture, few have ever had the opportunity to hear these forgotten gems from one of Gene Clark's most prolifically creative periods. Until now."
The album includes the songs Clark recorded soon after leaving the Byrds, as well as five tracks he made as an acetate for the Rose Garden around the same time. There's also a demo version of "Till Today," which was released on the Los Angeles band's first, and only, album from 1968.
Clark was one of the Byrds' busiest songwriters on their first three albums, writing and singing classics like "I Knew I'd Want You," "Set You Free This Time" and "I'll Feel a Whole Lot Better" -- which was covered by Tom Petty on his first solo album, Full Moon Fever -- before he left the group for a number of reasons (including a fear of flying, which made touring almost impossible for him). He took part in the Byrds' 1972 reunion album and reunited with bandmates Roger McGuinn and Chris Hillman for an album in 1979.
You can see the track listings for both upcoming albums below.
Gene Clark, 'Gene Clark Sings for You' Track Listing
1. On Her Own
2. Past Tense
3. Yesterday, Am I Right
4. Past My Door
5. That's Alright by Me
6. One Way Road
7. Down on the Pier
8. 7:30 Mode
The Rose Garden Acetate
9. On Tenth Street
10. Understand Me Too
11. A Long Time
12. Big City Girl
13. Doctor Doctor
The Rose Garden Demo
14. Till Today
Gene Clark, 'The Rose Garden — A Trip Through the Garden: The Rose Garden Collection' Track Listing
1. Next Plane To London
2. I'm Only Second
3. February Sunshine
4. Coins Of Fun
5. Rider
6. She Belongs To Me
7. Flower Town
8. Till Today
9. Look What You've Done
10. Long Time
Bonus Tracks
11. If My World Falls Through (mono single version)
12. Here's Today (mono single version)
13. Down To The Wire*
14. Charlie The Fer De Lance*
15. The World Is A Great Big Playground*
16. Here's Today (stereo mix)*
17. If My World Falls Through (stereo mix)*
18. Dead Men Never Die (Take 2)*
19. I'm Only Second (acetate version)*
20. Till Today (rehearsal)*
21. Till Today (acetate version)*
22. Next Plane To London (live)*
23. So You Want To Be A Rock 'N' Roll Star (live)*
24. She Don't Care About Time (live)*
25. It's The Little Things (live)*
26. You Don't Love Me (live)*
*previously unissued