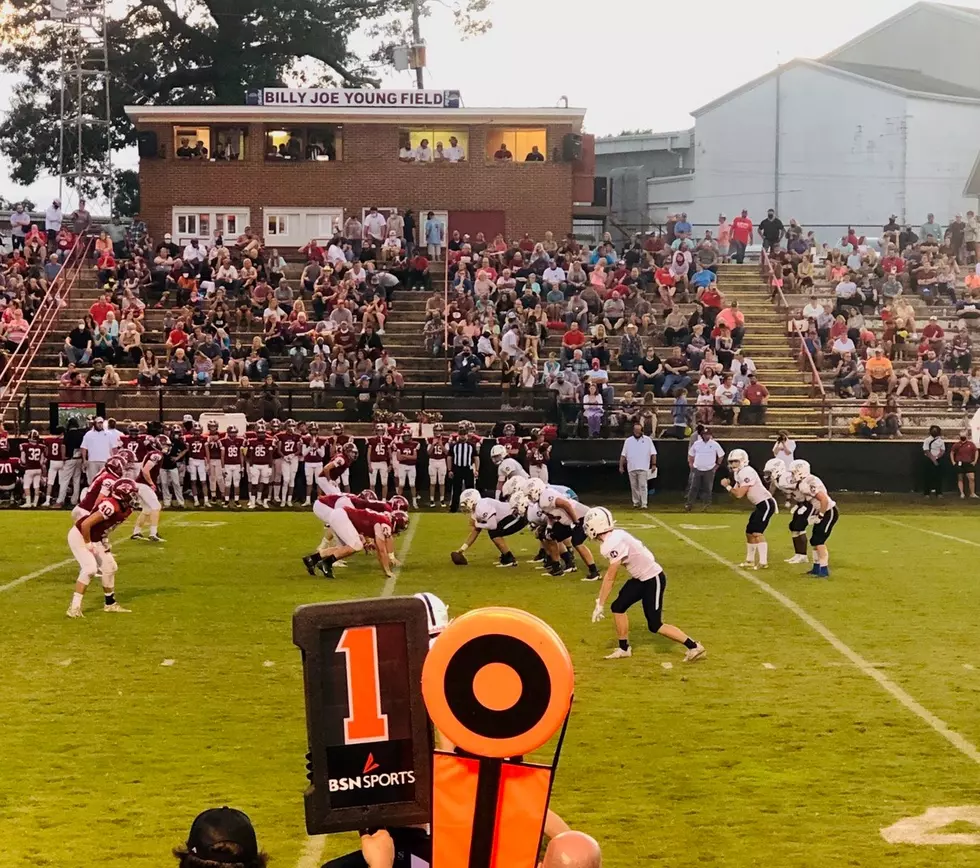 Gulf Shores Breaks Brookwood
Photo By Lacy Gaither
The Gulf Shores Dolphins (1-1, 0-0) took down the Brookwood Panthers (0-2, 0-0) tonight 38-12 at Billy Joe Field in Brookwood.
The Dolphins took the five hour bus ride from south Alabama and started the game off hot, scoring on its first four possessions of the game to put the pressure on the Brookwood triple-option offense.
"Our game plan was to run the football and when they started cheating up we had to take some shots and early on we got a couple of touchdowns and we created momentum and got our energy up and our kids really into the game and to me I think that was the whole difference of the game," said Gulf Shores coach Matt Blake.
Gulf Shores was led offensively by sophomore running back J.R. Gardner. The running back carried the ball seven times for 114 yards and two touchdowns, he also added 19 receiving yards and a touchdown through the air to torment the Panther's defense.
"JR, what do you say about him? He plays defense, he plays offense, he plays all of our special teams and you saw it tonight. You've just got to get the ball in his hands and get him in space and he can do magical things with the ball," said Blake.
The Dolphins ground game was aided by senior running backs James Toker  and Charles Baranovics who rushed for 82 yards and 68 yards respectively.
Dolphins quarterback Sebastian Alexander was the definition of efficient tonight as  he threw three touchdowns in the first half on his first three passes of the game, hooking up twice with junior receiver Taevon Anderson on scores of 44 and 15 yards. Alexander's third touchdown pass of the half went to  Gardner. In total for the evening Alexander completed 3/5 passes for 78 yards and three touchdowns with one interception.
Brookwood able to muster a 73-yard scoring drive in the first half to make the score 14-6 but subsequently allowed a one-play touchdown run by Gardner to put the Panthers right back into an insurmountable hole.
"We didn't play with any intensity. We had a great week of practice, came out here and got hit in the mouth and we didn't respond to anything on offense, on defense. We've got a long way to go, we played a bunch of young kids but that's absolutely no excuse. We've got to get them ready to play, and they've got to play," said Brookwood coach Mike Bramblett.
Brookwood rushed for 171 yards as a team tonight out of its wing-T formation but could not get the ground game consistent enough to stay in the ballgame with Gulf Shores.
Junior Carson Capps led the Panthers on the ground with 41 yards, sophomore quarterback Kobie Humphries rushed for 27 yards, sophomores Davion Rainey and CJ Cummins each rushed for 26 yards and a touchdown for the two Brookwood touchdowns. Sophomore pitched in with 18 yards rushing and junior Jake Smithson contributed 16 yards rushing.
Next week begins region play for both teams, Gulf Shores will travel to play the winless Spanish Fort Toros in a Region 1 battle. Brookwood will head across town to play the undefeated Hillcrest Patriots in a Region 4 contest.
Coach Bramblett said the focus this week will be on intensity and getting his team up for gameday as the Panthers jump into region action.
"Its gotta be intensity and being ready to play and understanding how to play the game and we did a very very poor job with that tonight all the way around," said Bramblett.
Enter your number to get our free mobile app
Top Recruits in the State of Alabama