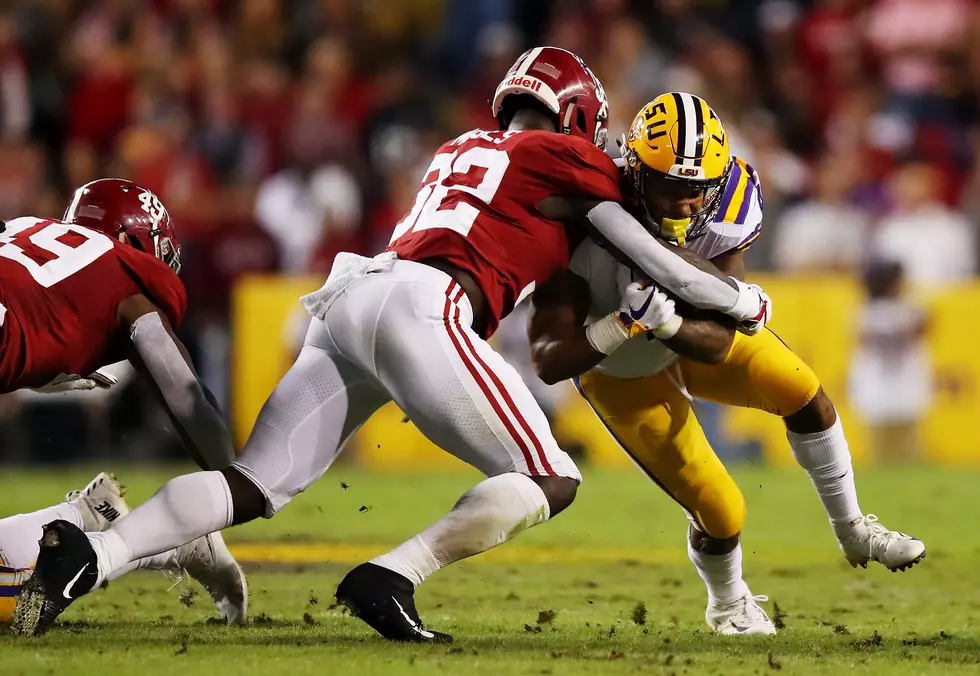 Alabama and LSU Will Play Next Week
Getty Images
The SEC will rearrange its schedule for next weekend, allowing for the Alabama Crimson Tide to travel to Baton Rouge to take on the LSU Tigers, according to Pete Thamel of Yahoo Sports and Matt Zenitz of Al.com. The originally scheduled Alabama vs. LSU game was scheduled for Nov. 14 but was postponed due to LSU dealing with COVID-19 issues.
The Crimson Tide will play LSU at 7 p.m. CT as the second game in a CBS double-header. Previously the matchup was scheduled to follow the third round of the 2020 Master Tournament.
Arkansas is rescheduled to play Missouri on Dec. 5 and then could possibly play the Crimson Tide on Dec. 12.  The two schools were scheduled to play this weekend but was postponed due to Razorback issues with COVID-19.
The SEC announced on Nov. 13 that it would have the autonomy to alter the matchups as late as the Monday prior to the Saturday game in order to maximize the amount of games played this season. The SEC rearranged the current weekend's schedule, matching Vanderbilt with Missouri instead of their previously scheduled games with Tennessee and Arkansas. The Volunteers and Razorbacks both ended up with the week off.
LSU was scheduled to take on the Ole Miss Rebels on Dec. 5 and changing the Tigers'  leaves the Rebels without an opponent. The Rebels would likely make up the game with LSU on Dec. 19, the same date as the SEC Championship game. The SEC declared Dec. 19 a playing date for those who are not involved in the SEC championship game earlier in the month.
Last year's Alabama vs. LSU game went down to the wire and is one of the better SEC rivalries. The allure of the Tide and Tigers playing, in addition to Arkansas dealing with COVID-19 issues creates a desire for the SEC to ensure the two programs are able to reschedule their game.
Enter your number to get our free mobile app
"If