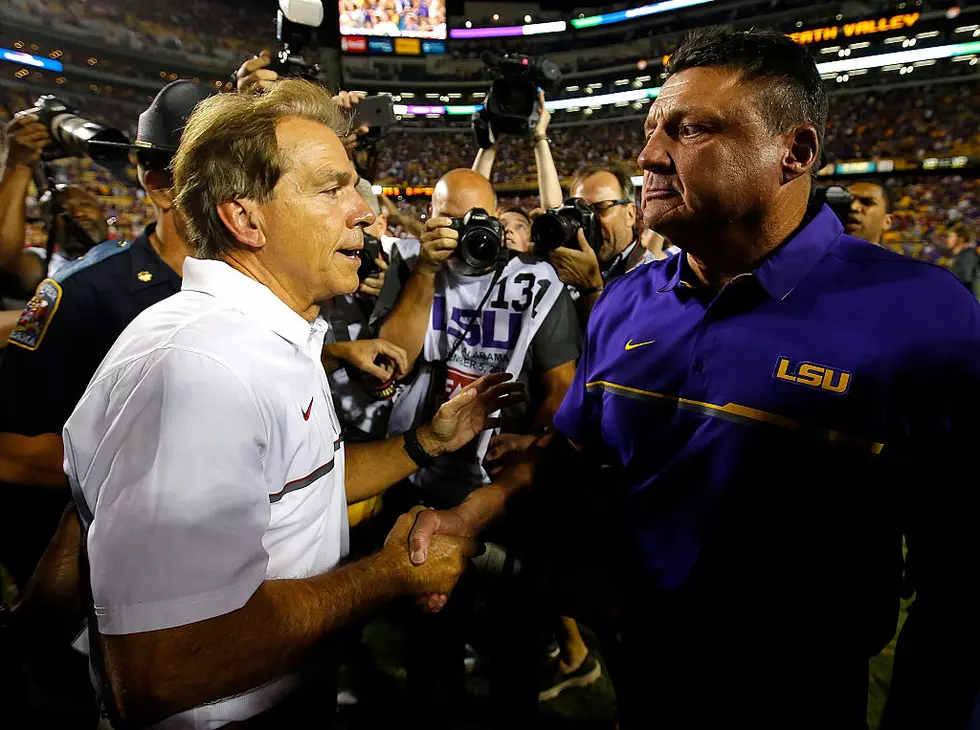 Alabama – LSU May Be Played Dec. 5
Getty Images
Last week the Alabama Crimson Tide was scheduled to travel to Baton Rouge to take on the LSU Tigers. The game was postponed by the SEC office due to the Tigers having to quarantine to follow the COVID-19 health and safety guidelines. Due to LSU already having its Florida game scheduled on Dec 12. there was concern the game would not be able to take place.
The SEC office made two changes to its policies after postponing four games last week due to quarantining. First the conference made Dec. 19 a game date for teams not playing in the SEC championship. Secondly the SEC decided it would be able to alter the conference matchups in the final four weeks of the regular season to ensure maximum amount of games are played.
LSU Coach Ed Orgeron has been vocal in the media about his desire to play the game any chance they can. Orgeron commented that it is a good rivalry game and despite rumors of the Tigers not wanting to play he was hoping the game would be rescheduled.
Alabama defensive lineman D.J. Dale met with the media today and revealed that the Crimson Tide spent the week preparing for LSU despite the game being postponed early in the week.
There are rumors that in order to ensure the Tide and Tigers play the conference will utilize the two policy changes to manipulate the schedule.
The new rumored schedule for the Crimson Tide would still see them hosting Auburn on Nov. 28, however instead of playing Arkansas the following week Alabama would make the trip to LSU on Dec. 5. The Crimson Tide would then go to Arkansas on Dec. 12 for its 10th and final regular season game.
This adjustment would maximize the playing time for the Crimson Tide as well as maintain competitive fairness to Florida who is already scheduled to play LSU the week prior to the SEC Championship.
Enter your number to get our free mobile app
The Best Holiday Desserts