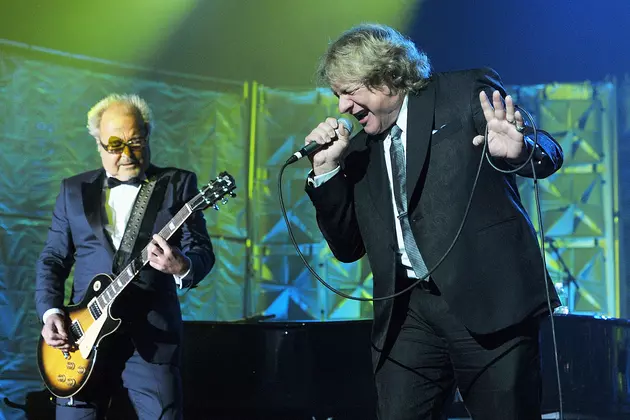 Foreigner Announce More Reunion Shows
Larry Busacca, Getty Images
Foreigner announced four concerts billed as "special celebrations," featuring all of the surviving members of the band, past and present, which will take place on Nov. 9, Nov. 10, Nov. 30 and Dec. 1 this year. You can see full details below. The brief run follows last night's similar appearance – arranged after leader Mick Jones and former frontman Lou Gramm settled their differences several years ago – and several informal guest spots in recent times.
Channeling the announcement via an exclusive interview with Forbes.com, Jones also discussed the kind of modern bands he'd like to share the stage with as they celebrate their own legacy. "For me, probably Queens Of The Stone Age and the Killers," he said. "Josh [Homme] is a very cool guy. My stepson, Mark Ronson, produced an album recently with them. It's good to listen to music when it's your life and try to distinguish some of the new artists that come out. Like the Killers when they came out, I thought the freshness and the sound and the songwriting were there. Those are the things I go by and I guess I always have."
Reflecting on Foreigner's early years, and how their second album Double Vision broke the "sophomore jinx" and secured their future, he said: "[W]e kind of looked upon ourselves as more of a R&B band at one point. Not that we sounded like a R&B band, but the feel that we played with together. … We had original ideas from the Who and we had that fermenting quietly in the background and then it came to the fore with doing songs a little rougher edged and not quite produced and all that kind of stuff."
He continued: "The second album, Double Vision, we found ourselves suddenly vying and competing with the Rolling Stones on the same label. And we actually ended up out-selling Some Girls with Double Vision and that's like, 'What? What'd we just do?' It was a real euphoric feeling. I think we all felt that was the beginning of the band almost, of the ability to go out and play and headline ourselves."
Jones also repeated his commitment to completing songs that had been started with Gramm in the past, saying sessions would hopefully take place early in 2019. Tickets for the reunion shows will be available via the band's website.
Foreigner Reunion Shows 2018
Nov. 9 – Los Angeles, CA @ Microsoft Theater
Nov. 10 – Rancho Mirage, CA @ Agua Caliente Casino
Nov. 30 – Atlantic City, NJ @ Hard Rock
Dec. 1 – Uncasville, CT @ Mohegan Sun Arena
Foreigner Albums Ranked