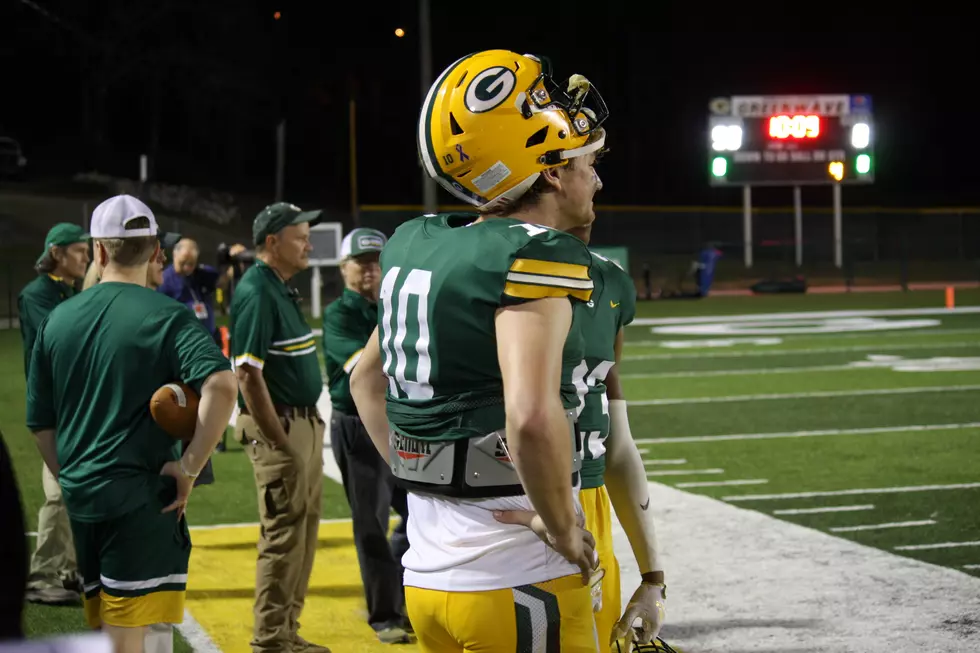 Gordo Manhandles Ohatchee in First-Round Playoff Win
J. R. Moore | Townsquare Media
---
Tide 100.9's local high school football coverage is powered by The University of Alabama Online, "Where Legends Log In."
Gordo collected its tenth win of the season over Ohatchee (3-8) on Friday night to advance to the second round of the state playoffs.
The Green Wave (10-1) defeated Ohatchee 50-6 on the strength of a dynamic offense, unrelenting defense and a 43-0 first half.
Gordo won the toss and took the ball to open the game.
In three plays, the Green Wave scored. Willie Fonville took a 35-yard reverse all the way home. Gordo then converted the two-point attempt to move ahead 8-0.
Gordo head coach Gus Smith said that was the plan all along.
"We said all week if we win the toss, we're going to get the ball, we're gonna go score, and we're gonna go for two to get up 8-0," Smith said. "We wanted to get out, 8-0, and that's exactly what happened."
A three-and-out for Ohatchee gave way to a two-play drive for Gordo. Gordo quarterback Brax Garrison connected with Ethan Wilder for a 71-yard touchdown.
"We got some dawgs," said Wilder. "Everybody is capable of doing big plays, doing big things. When our playmakers were making plays, they couldn't stop them."
On the first play after the touchdown, Ohatchee threw an interception to Jace Hathcock. Hathcock, a two-way player, extended to make the one-handed snag. Fonville then scored on the very next play from 17 yards out.
Ohatchee mounted a 15-play drive that included two fourth down conversions on the ensuing drive, but gave the ball back to Gordo after a turnover on downs inside the 30-yard line. Gordo punted, but the Green Wave's Kyson Pate intercepted Ohatchee signal caller Bryce Noah. Chrisjavion Lark, playing primary tailback in place of Rayshawn Williams, scored from 28 yards on the next drive.
Lark scored again from 51 yards the next time the Green Wave had the football. He then completed the hat trick with a 3-yard rush to close out the scoring in the first half.
Ohatchee opened the second half with the ball and turned it over on downs again after 11 plays. The Green Wave punted, but on the next Gordo drive, Hathcock reeled in a 66-yard touchdown pass. That locked up the 50-spot for Gordo.
Ohatchee did not score until the fourth quarter. Workhorse running back Nathan Jones ran it in from 3 yards away. The two-point try was no good.
"We dominated, clear and simple," Smith said. "We practiced really well this week, and our guys got after it a lot in practice... Bibb County got our attention... I think it humbled everybody and we got it rolling pretty good after that."
Bibb County, eliminated on Friday in heartbreaking fashion by Jacksonville, handed Gordo its lone loss of the season.
"They jumped on us real early, and I thought we didn't respond too well to it," Ohatchee head coach Chris Findley said. "We didn't show up ready to play to begin with, and they got on us pretty quick, and we couldn't really recover from it."
"I was glad that we could get into the playoffs," Findley said. "This is not the way we obviously wanted it to go, but getting [younger] guys experience, hopefully they can learn and improve from it as we go forward."
Ohatchee's season has ended, but Gordo will now look ahead to defending home turf in the second round against Lauderdale County. Smith said it was important for his team to stay humble.
"We just gotta take it one game at a time," he said.
The second-round matchup is set for next Friday at 7:00 p.m. CST.
Gordo Cruises Through Round 1 of 2022 AHSAA Playoffs
The Gordo Green Wave thumped visiting Ohatchee, 50-6, to cruise to the second round of the AHSAA Playoffs