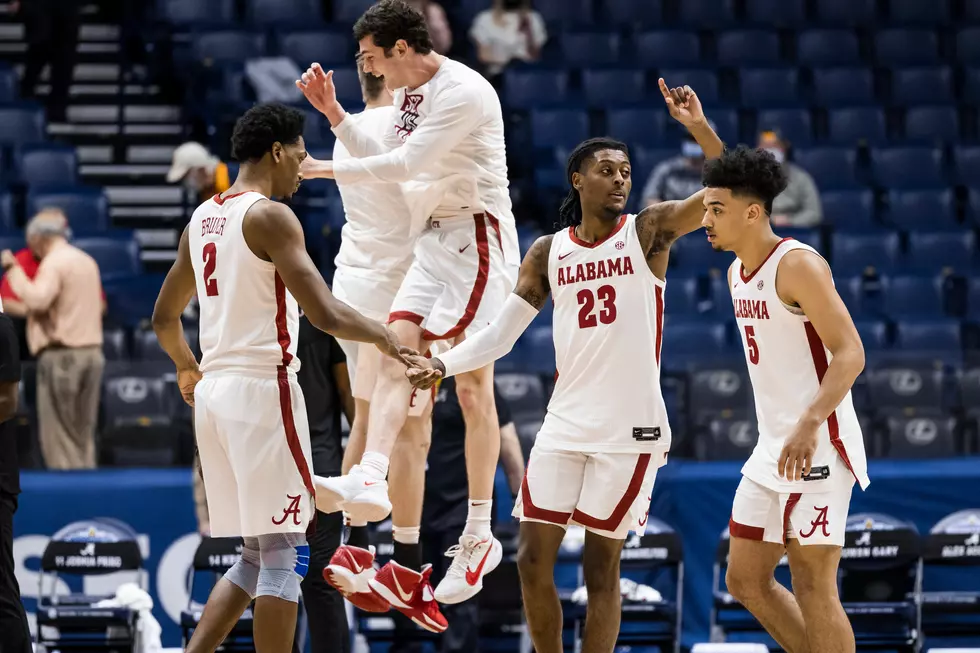 No. 2 Alabama to Face No. 15 Iona in March Madness First Round
SEC/TeamCoyle
For the first time since 2018, the Alabama Crimson Tide (24-6) will prepare to face an opponent in the first round of the NCAA Basketball Tournament. 
The No. 2 seed Crimson Tide travels to the March Madness facilities in Indianapolis to take on the No. 15 seed Iona Gaels in the East region bracket. 
Led by former Louisville head coach Rick Pitino, the Gaels went 12-5 in a season marred by COVID-19 cancellations at the beginning and end of their season. The Gaels responded convincingly, capping the season by winning the Metro Atlantic Athletic Conference Tournament and clinching a spot in the NCAA Tournament.  
On the hardwood, the Gaels are led by senior guard Isaiah Ross who is averaging 18.4 points per game and shooting 45.5% and freshman Nelly Junior Joseph who leads the team in blocks and offensive rebounds.
This isn't the first time Alabama has met a Pitino-coached squad in the postseason. Next week's matchup bears striking similarities to the set up for Alabama's 1987 NCAA Tournament run. In both years, Alabama was 16-2 in the regular season and won the SEC, leading to a berth in the tournament. The Crimson Tide would eventually be knocked out of play by a Pitino-coached Providence Friars team. 
In only his second season, Alabama head coach Nate Oats' production is off the charts. The Crimson Tide won the SEC regular season title and SEC tournament, and his squad is now heading to the university's 21st NCAA Tournament appearance. 
Alabama most recently went to the tournament in 2018 led by legendary Alabama point guard Collin Sexton. The Crimson Tide defeated the Virginia Tech Hokies 86-83 in the first round but were knocked out in the second round by the eventual tournament champion, Villanova.
Due to COVID-19, all of the 67 NCAA Tournament games will be played in Indiana spread across six different facilities. Those facilities include Bankers Life Fieldhouse, Hinkle Fieldhouse, Indiana Farmers Coliseum, Mackey Arena in West Lafayette and Simon Skjodt Assembly Hall. The majority of the games will be played in Indianapolis, with several of them occurring at Lucas Oil Stadium. 
Coverage of the First Round of the NCAA Tournament begins on Friday March 19th and Saturday March 20th at 12:00 p.m. EST. 
Alabama Basketball All-Time Scoring Leaders
Alabama Men's Basketball's Top Career Rebounders