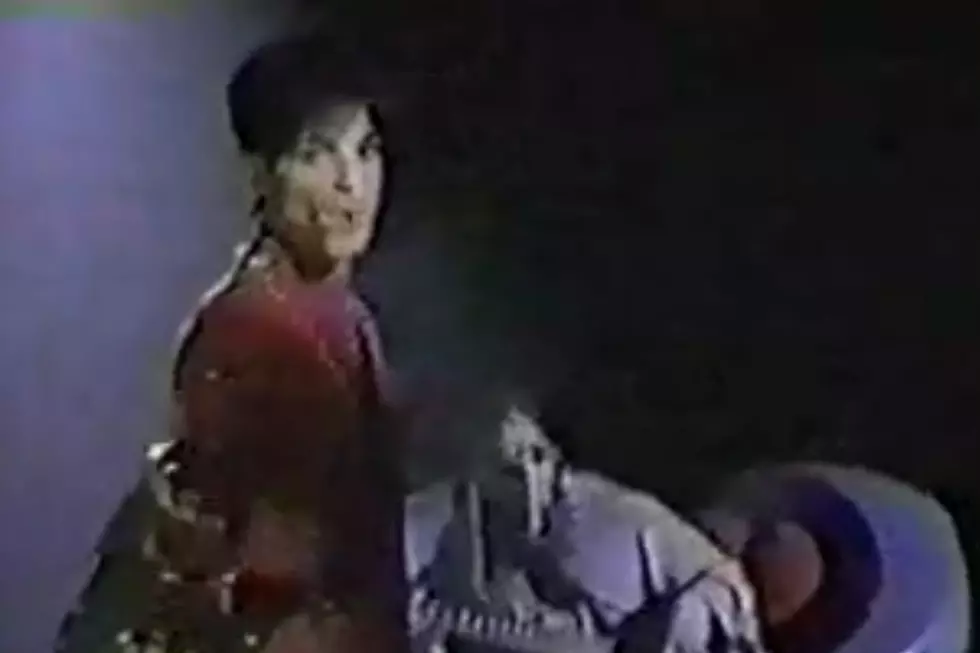 Prince's Unreleased 'Empty Room' Video Captures a Dark Point
YouTube
When it came to filming music videos, Prince could be as spontaneous as he was in the studio, creating material for projects he'd fine-tune later, as his unreleased clip for "Empty Room" demonstrates.
It was a process his ex-wife and dancer, Mayte Garcia, witnessed firsthand.
"Many of his music videos came together in this sort of collage, which is why we never questioned dressing up or standing on a bridge or riding around on a carousel," she wrote in her book, The Most Beautiful. "I don't think he knew himself when a lot of these images might come in handy; he just knew they would."
For example, the footage of a trip Garcia took to Egypt ended up in three different Prince videos from the 1992 Love Symbol Album: "Sweet Baby," "The Continental" and "Damn U." Later, shots of her dancing in an auditorium were included in both the unreleased "Empty Room" video in 1994, and in the 1996 video for "The Holy River."
According to PrinceVault, the song "Empty Room" was originally cut in 1985 with the Revolution following an argument with his then-paramour, Susannah Melvoin. He re-recorded the song in 1992 and eventually released another version on 2004's C-Note.
Prince briefly resurrected the first version for the video, in which he appears to be lonely and lovesick. He pouts by the phone and takes a bubble bath (yes, "with his pants on"). His room isn't physically empty, though. For a split second at the beginning, two women — also featured in the "18 & Over" video — are shown in Prince's bed. However, he appears emotionally unfulfilled.
Meanwhile, Garcia is elsewhere. She appears to be auditioning for another version of herself, portrayed as an angel, in the audience. She is either the object of Prince's affection, or a woman he has yet to meet — his inevitable saving grace.
"Love is strong, however long / We should've been forever," Prince sings. "How am I gonna fill this empty room?"
At the time, Prince was romantically involved with Garcia, but hadn't given up his bachelor behavior. When he and Garcia married two years later, he spoke about her as a change agent in his life. In addition to calling her his "true soulmate" in their wedding program, he famously told Oprah Winfrey, "She makes it easier to talk to God." According to Garcia, he once told her, "Your love is my salvation."
The wedding coincided with Prince's emancipation from his Warner Bros. contract. Prior to that, he was embroiled in a bitter conflict with the label, showing his frustration by writing the word "slave" on his face in the "Empty Room" video. Given this context, the video could also be interpreted as a commentary on the dissolution of his business relationship.
The video also includes a performance featuring Prince and the New Power Generation. At the end, he collapses on the stage. It's similar to his exit during his 1994 performance of "Dolphin" on The Late Show With David Letterman. At the time, he'd changed his name to the Love Symbol and was proclaiming, "Prince is dead." Therefore, the end of "Empty Room" is another metaphor for his artistic rebirth.
Prince did not publicly share why he decided to shelve the video and use most of the footage for "The Holy River" instead. But the latter video includes similar themes; it shows Prince going through a period of sadness and self-destruction. There's a happier ending, though. Although he and Garcia never cross paths, he puts on a wedding ring as he sings, "I asked her to marry me and she said, 'Yes,' and cried."
Perhaps he knew on some level that the story wasn't complete. Finally, two years later, he filled that empty room.
Prince Year by Year: 1977-2016 Photographs