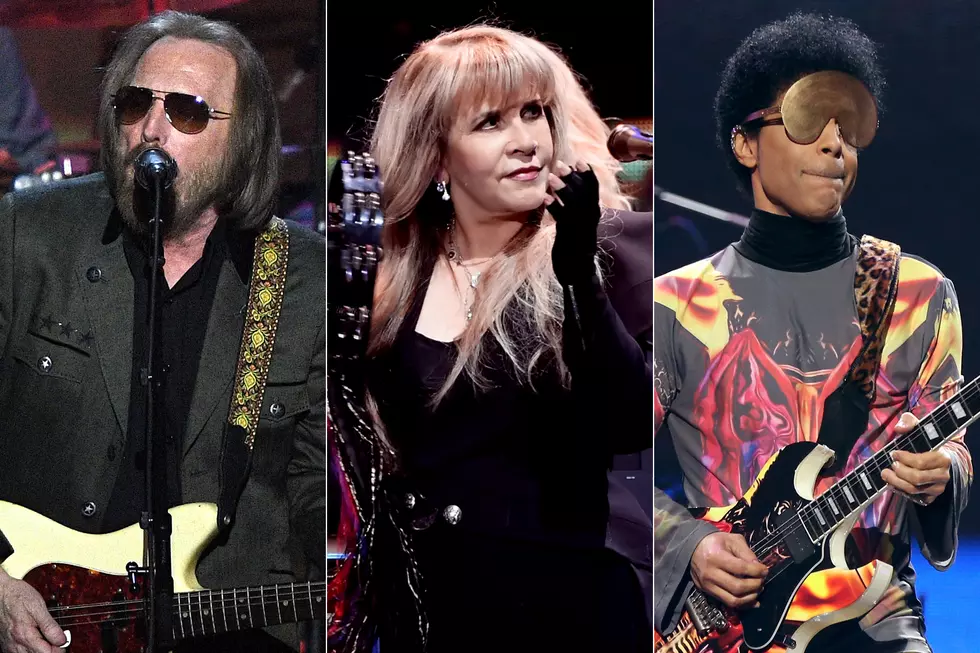 Stevie Nicks Wishes Tom Petty and Prince Could Attend Her Rock Hall Induction
Kevork Djansezian / Kevin Winter / Christopher Polk, Getty IMages
As Stevie Nicks is celebrating her induction into the Rock & Roll Hall of Fame, she's also thinking of a pair of friends that have departed in recent years. In a new interview, she said she wished that Prince and Tom Petty, both of whom contributed to two of her biggest solo hits, could have been able to join her onstage during the induction ceremony in Brooklyn next March.
"My sadness is there are a few people that won't be there," she told Rolling Stone. "Had Prince not passed away, Prince would have come and played on a song with me because I get to do one or two or three songs. He would have come and played on his and my song for the first time in history since we never got to play ['Stand Back'] together on stage."
"If Tom Petty had lived, he could have come and played 'Stop Draggin' My Heart Around' with me," she continued. "And that breaks my heart that those two people aren't alive for this. But you know what? They are in my heart. They walk with me onstage every night. That's the sadness that there are a few people that I would really loved to have shared this with, but life goes on and they are in my heart, so it's okay. I have to let that part go."
Prince was an uncredited collaborator on "Stand Back." As Nicks has described it, she wrote the song after hearing his "Little Red Corvette" on a car radio after her marriage to Kim Anderson, building a new track based on his chords and melodies. During the recording, she invited him down to the studio, at which point he created and performed the keyboard part that drives the song.
Nicks had a much more public collaboration and friendship with Petty. They duetted on "Stop Draggin' My Heart Around," "The Insider" and several other tracks, and she occasionally appeared onstage with him. ""She's a good friend, he once said. "I've known her since 1978 and she's insisted on being in my life. Some of my best musical memories of her are sitting on the couch and just playing the guitar while she sings."
She added that "there is nothing better than being inducted into the Rock and Roll Hall of Fame" and took special pride in the fact that she's the only woman to twice earn election, in 1998 for her work in Fleetwood Mac and now this year.
"My biggest hope is that I have opened the door due to the fact that there's 22 men who have gone in twice and zero women," she said. "I think that's really a little off balance."
Stevie Nicks Year by Year: Photos 1973-2018