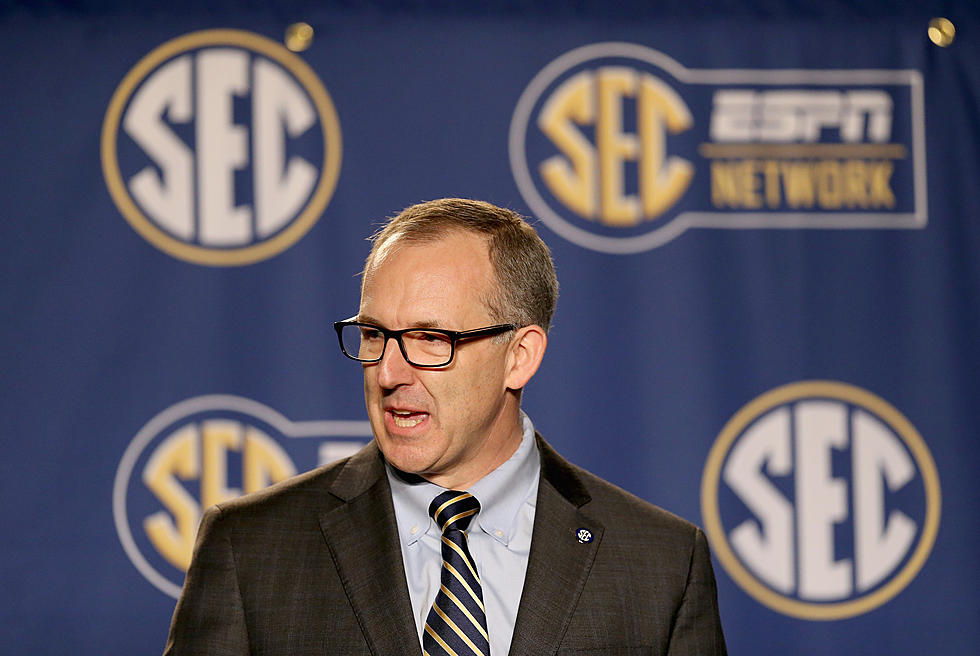 SEC Votes For Athletes to Return
Getty Images
Two days after the NCAA announced it was clearing football and men's and women's basketball athletes to return to college campuses on June 1, the SEC announced that voluntary in-person activities may resume on June 8. SEC schools may bring back football and basketball athletes to campus for voluntary workouts on June 8 to prepare for the upcoming season.
The decision to reopen the universities was made by the conference's Return to Activity and Medical Guidance Task Force. The 14 member schools may now decide for themselves if June 8 is an appropriate start date for voluntary offseason workouts. University of Tennessee Athletic Director Phillip Fulmer had previously stated on a Zoom call with other athletic directors that June 15 would be a more appropriate. The Task Force will stay intact to continue to advise universities as they prepare for a return to athletic competition.
The SEC was one of the last conferences to cancel its basketball tournament on March 12. The conference cancelled its tournament one hour prior to the second day of the tournament beginning. Commissioner Greg Sankey even insinuated that the conference may not cancel its spring season but ultimately decided to follow the NCAA's guidlelines and forgo the remaining portion of the spring schedule. The SEC was one of the last conferences to cancel its events, but becomes the first Power 5 conference to reopen its facilities to prepare for the 2020 fall and winter seasons.
Athletic programs will need to determine the best route to allow athletes into its facilities and maintain social distancing and proper sanitation procedures. The weight rooms will need to limit the amount of athletes exercising at the one time and enforce testing of each of the athletes. Procedures for temperature checks and COVID-19 tests will need to be put in place for each program. Other recommended health procedures include.
Enhanced education of all team members on health and wellness best practices, including but not limited to preventing the spread of COVID-19
A 3-stage screening process that involves screening before student-athletes arrive on campus, within 72 hours of entering athletics facilities and on a daily basis upon resumption of athletics activities
Testing of symptomatic team members (including all student-athletes, coaches, team support and other appropriate individuals)
Immediate isolation of team members who are under investigation or diagnosed with COVID-19 followed by contact tracing, following CDC and local public health guidelines
A transition period that allows student-athletes to gradually adapt to full training and sport activity following a period of inactivity
Only strength and conditioning personnel is allowed to observe the voluntary workouts to ensure the health and safety of the student athletes. Getting the student-athletes back on campus is a major step to ensuring there is college football in the fall.
Enter your number to get our free mobile app
Alabama's 2020 Football Schedule