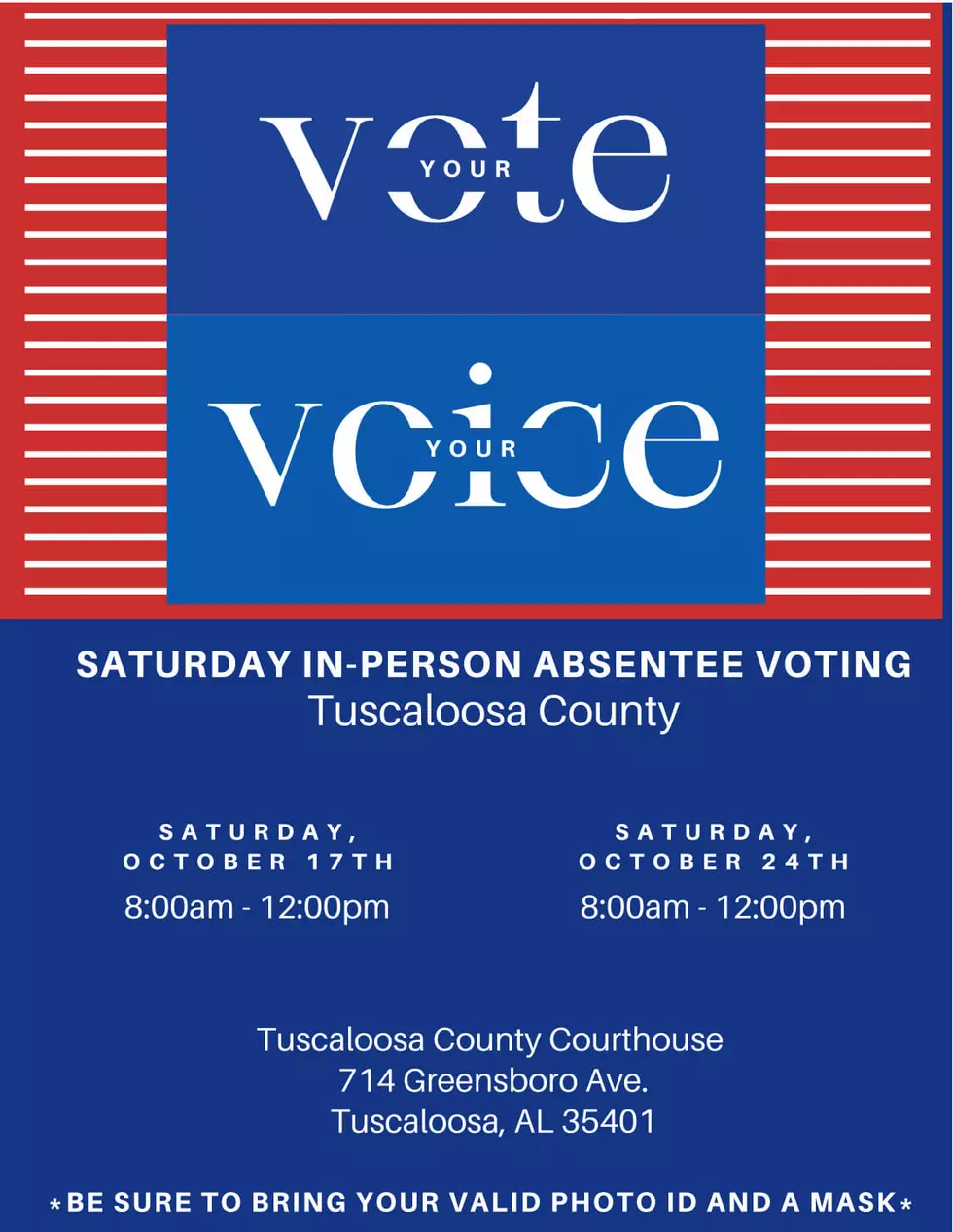 Tuscaloosa County Allows In-Person Absentee Voting on Saturdays
(Credit: Facebook/Donna Murphy Foster)
It goes without saying that 2020 is definitely going to be one of those years with remarkable historical coverage in years to come.
Not only has the novel coronavirus interrupted every aspect of life as we know it, but this year's political scene has been one.... Well, for the books!
Not only are we voting for the race for President, but in Alabama, we have a number of key seats up for election as Doug Jones will face Tommy Tuberville for the U.S. Senate, Rick Neighbors faces Robert Aderholt for a seat in the United States 4th Congressional District, and Laura Casey takes on Twinkle Andress Cavanaugh for President of the Public Service Commission.
In Tuscaloosa County, there is a bit of an uncommon scene as the District 4 seat on the County Commission appears to be unopposed, but community activist and retired law enforcement officer Darryl McKinstry is running a write-in campaign.
To be sure everyone is given the opportunity to vote-- especially as the pandemic continues --early voting is encouraged in many areas of the country.
In Alabama, absentees ballots are being cast in record numbers. However, for those in our area who don't want to risk a mishap in safe delivery of their ballots, in-person absentee voting is being conducted.
Normal operation of the Tuscaloosa County Circuit Clerk is between 8:30 a.m. to 5:00 p.m. Monday through Friday. However, for the sake of those who may not be able to appear between those hours, the office is open until 12:00 p.m. on Saturdays, October 17 and 24.
A state issued ID and face covering are required.
Now, no eligible voter has an excuse for going uncounted. Make sure your voice is heard and cast your ballot, whether it's on November 3, November 24, or any weekday prior to election day.
Enter your number to get our free mobile app
Jobs I Appreciate More Because Of COVID-19
Jobs I Appreciate More Because Of COVID-19
6 Ways to Socially Engage During Virtual Learning
6 Ways to Socially Engage During Virtual Learning