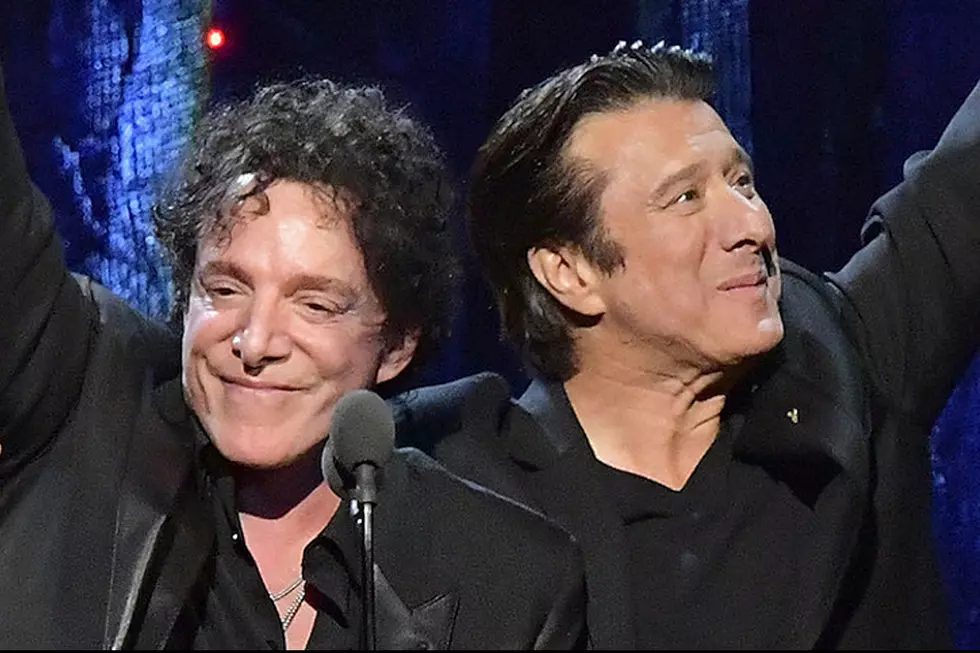 Neal Schon Wants to Work With Steve Perry Again
Mike Coppola, Getty Images
On the new episode of Rock Talk With Mitch Lafon, Schon said he "still feel[s] like there's only one Steve Perry, even though I haven't heard him sing in years."
"I'm dying for him to put out his own record," Schon noted. "And I'd love to correlate with him on something that's different than Journey; something more R&B, because I love playing soul and R&B and blues and that's something that a lot of people don't really know, because I've been doing all these rock records."
Schon revealed that he had tried to get one of his other former singers, Bad English frontman John Waite, to sing at Schon's Journey Through Time benefit concert in San Francisco in February. But it fell through because Waite had another offer for that night. Still, Schon has an idea for another album with Waite too.
"I'm more interested in doing a really rocking blues record with Waite, more so than another Bad English record," he said. "I think the force that's there is John and I get each other. I think Bad English was Bad English; that was then, this is now. We had some great songs [but] my favorite stuff was not the stuff that went big for the band. ... I always liked the other material that's not necessarily a hit. I liked 'Rockin' Horse' and I liked the tougher side of that band."
Schon also told Lafon he's recorded another instrumental album, with Narada Michael Walden producing and playing drums and keyboards: "It's been ready since we started touring, but I thought Jon [Cain]'s got his book out there and he's releasing one record after another, and I'm like, 'I'm just gonna wait 'til we're done and I'm gonna put it out maybe at the beginning of next year.'"