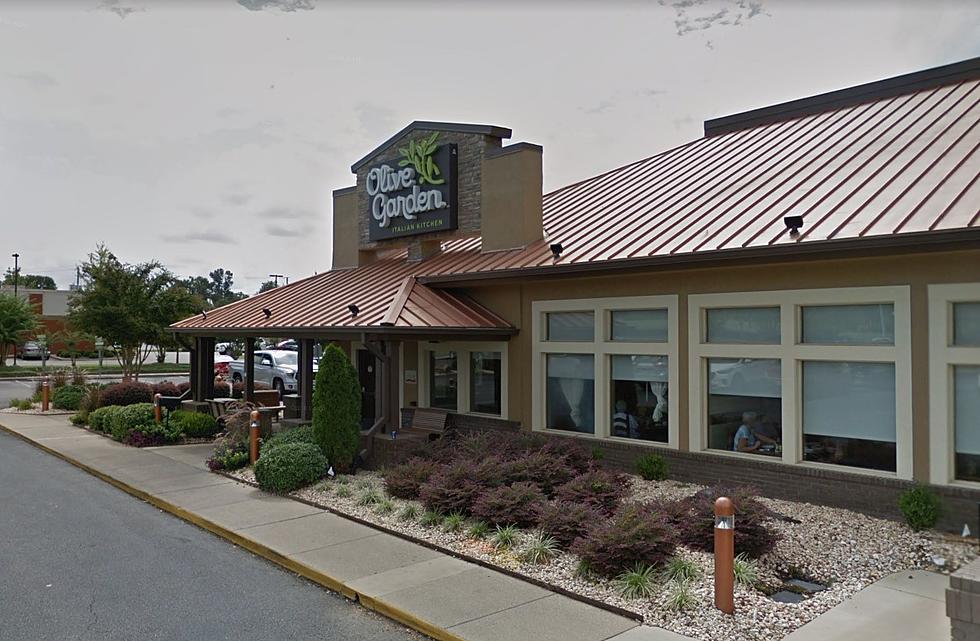 This Office Crime Is Taking Over Tuscaloosa, Alabama Businesses, And It's Worse than Murder
Google
Last week, we ran a silly story about if you do these certain things, you're an unrepentant a-hole. Whether it's bad drivers, bad tippers, or bad takes on football, some things just make you a not-so-awesome person.
Well, someone has expertly topped all of these heinous acts, right under my own nose, and I am IRATE.
Picture It:
Yesterday, one of my most beloved colleagues and I left the office to go to lunch. We settled on the Mecca of mediocre Italian food: Olive Garden.
Now, I don't hate on ANYONE who enjoys Olive Garden because I, myself, enjoy the hell out of Olive Garden. Our tea was sweet, our server Layla was even sweeter (love you queen) and the food was straight cheese-filled gluttonous heaven.
I tipped Layla, like, 40% because TBH, anyone who has to deal with hangry Sav on an unrelenting quest for carbs deserves at LEAST the Presidential Medal of Freedom, so she deserved it.
Anyways.
We requested that an embarrassing amount of complimentary breadsticks be brought to the table, with intentions to pre-game with some starter sticks, sop up our pasta sauce with more sticks, then take some with us after our meal. At the end of the lunch, we had five sticks left over to be split – I let my coworker take the third stick over my two because, well, I'm just nice like that.
My coworker and I returned to the office with food babies and little doggie bags. I planned to enjoy my leftover ziti al forno and two breadsticks the next day for lunch (it's called investing in your future, folks).
I placed my ziti and breadstick bag into a plastic OG bag, tied that bag up, placed it in the office fridge, then finished my workday in a blissful food coma.
That was the last time I knew true joy.
Flash Forward to Today:
It's around noon, all of my meetings for the day have been completed, and ya girl is getting peckish. I head to the office fridge to retrieve my bounty from the previous day's lunch outing, preparing myself for some microwaved cheesy pasta-y goodness.
I untied the OG bag, emptied its contents, and SCREAMED.
Some monster STOLE ONE OF MY BREADSTICKS.
Now, this is not a case of "Oh, I didn't know it was yours" or "Oh, I thought this was for anyone." As you can recall, the sticks were wrapped in a napkin, placed in their own bag, sealed inside a second bag, which was then TIED UP.
This was intentional theft.
I thought about calling the FBI. I thought about sending an aggressive office-wide email. I thought about going on strike. I thought about alerting the media.
But, then it hit me.
I am the media.
So, Breadstick Thief, Here Is My Open Letter to You:
Whoever did this to me, you suck so MUCH. Like, so much.
You could have asked for one of the sticks. Me, being completely unable to handle direct confrontation, would have given one to you.
If you were hungry and didn't have money for food, you could have asked for a snack out of my snack drawer (which the office knows I keep stocked at all times – lessons from having diabetic friends). I would have happily let you peruse my Costco-size variety packs of cookies, crackers, granola bars and fruit snacks.
Or, most importantly, you could have kept your thieving little fingers to yourself.
One thing few people know about me is that I have OCD. Like, actually clinically diagnosed OCD. It took everything in my power to will myself to actually eat my lunch because of my aversion to the unknown germs and bacteria that lurk on foreign surfaces.
Breadstick thief, your grubby little klepto hands are foreign surfaces.
If it weren't for our office microwave being able to nuke any bacteria straight off my ziti, I may have gone hungry today because of my newfound distrust in what was supposed to be an exciting meal.
None of this would have happened if you had minded ya business.
Here's a PSA (And Some Advice) for Everyone:
Like, seriously. If you work in an office setting, do not – and I mean DO NOT – touch your coworkers' food without their consent. It's common courtesy and it shouldn't be that hard to be a decent person.
Am I being dramatic? Probably. Do I care? No.
Will I ever stop seeking vengeance? Never.
I don't know if my breadstick thief will ever fess up. To be honest, I don't care. All I know is that if this keeps happening to my lunches, I will develop a sudden interest in Carolina Reaper peppers and start dressing my lunches with as many as I can.
That's not a threat – that's a promise.
Do you have office drama you want to share? Or do you know someone who's selling an office-sized mini-fridge that comes with a padlock? Hit me up in our free mobile app. Let's gossip together.
50 Most Popular Chain Restaurants in America
YouGov investigated the most popular dining brands in the country, and Stacker compiled the list to give readers context on the findings. Read on to look through America's vast and divergent variety of restaurants—maybe you'll even find a favorite or two.
LOOK: 40 Discontinued & Special Edition Kellogg's Cereals
LOOK: Here are copycat recipes from 20 of the most popular fast food restaurants in America
LOOK: 34 spooky dessert recipes for this Halloween
CHECK IT OUT: See the 100 most popular brands in America
KEEP READING: Here are 6 foods from your cookout that could harm your dog
KEEP READING: 3-ingredient recipes you can make right now
Gallery — Every Movie Theater Candy, Ranked: